This Week at WorldGolf.com: June 10, 2008
Who wouldn't love a prime-time U.S. Open and Tiger-Phil pairing? Spoiled golf writers




It's embarrassing to admit (don't worry, this isn't one of those ads), but many sportswriters could care less about the average fan. In fact, many scribes hearken back to the glory days of Albert Belle with their outright fan disdain.

This is why you're seeing a lot of predictable, supposed high-brow whining about two things in this week's U.S. Open that the average golf fan has to love: The live golf stretching well into prime time on the east coast, and the Tiger Woods-Phil Mickelson pairing in the first two rounds.

These things are bad for sportswriters, so they're being couched as being bad for the U.S. Open. Nothing freaks out sportswriters like messing with their deadlines - especially golf writers who are used to having more time to compose their words than one of those kids in the National Spelling Bee who keeps asking for the definition and country of origin. And the fact that Sergio Garcia could be putting out for the win (okay, obviously that's a joke) after 9 p.m. EST Sunday is definitely messing with a ton of newspaper deadlines.

Not to mention the biological clocks of many of the white-haired writers who tend to dominate golf's media centers.

Never mind how cool this is for golf. The best players finally find prime time and it's not one of those trumped-up, made-for-TV exhibitions under portable ballpark-like lights. There will be nothing but Southern California's natural sunlight in play, as the United States Golf Association wisely realized that if you're going to wait 60 years to return to SoCal, you'd better make it special.

Think about how the prime-time broadcast will free up Father's Day for golf nuts in most of the country. Now you can play a round with dad and still catch the tumultuous finish at Torrey Pines.

The manufactured objections to Woods-Mickelson are even more comical. You have a bunch of sportswriters complaining that the pairing will make it almost impossible for the galleries at the cliff-side Torrey Pines to see many of their shots. As if these media members are aching for the common man.

Please. This is about the fact that the heavyweight pairing will have many editors insisting their writers actually get out on the course and chronicle a Tiger-Phil day. A good 60 percent (and this may be putting the figure on the low end) of golf writers almost never leave the press center during a major.

Tiger-Phil forces a lot more writer walking.

It's time to stop listening to the curmudgeons with laptops and TV argument-shows and just enjoy the uniqueness of this Open. Remember, WorldGolf.com will be covering it live for you every day - with as little whining as possible.

As always, WorldGolf.com welcomes your comments.
Torrey Pines superintendent chief projects even-par winner Sunday at the U.S. Open
Phil Mickelson would surely laugh, but Mark Woodward - the man in charge of the superintendent staff at Torrey Pines, a man who knows the setup for the U.S. Open better than almost anyone - believes the winning score will be right around even par. "You're going to see significantly shorter rough heights than you've seen at recent U.S. Opens by design," Woodward said in an exclusive interview with WorldGolf.com.
Also: WorldGolf.com readers tee off on Torrey Pines
CLIENT FEATURE

Win a British Columbia golf vacation for four from HelloBC
Enter our HelloBC.com's "Fore! for Four contest" and get a chance to win a trip for four to the beautiful Okanagan Valley. The package includes a three-night stay at the Peregrine & Falcon Point Cottage at Predator Ridge, four-day convertible car rental, a round of golf for four, and a spa treatment for four.
Bachelor parties can't live on beer alone! Bring your golf clubs
June is the marrying month, known for many single people as the time when life as you know it comes to an end. What better way for you guys to celebrate a life of love and bondage than one last wild blowout, especially if you can combine the bachelor party with a golf trip?
Also: Myrtle Beach sports bars
Fairmont Scottsdale Princess

Enjoy your stay at Fairmont Scottsdale Princess and play 1 rounds of golf per day at any of these courses, choosing from TPC Stadium, TPC Champions, Grayhawk Raptor, Grayhawk Talon, Wildfire Faldo, Wildfire Palmer, Troon North Pinnacle, Camelback Padre and many more, starting from $155.

Price Range: $115 - $445
Dates: May 1, 2008 - December 31, 2008
For details, call 1-800-767-3574 or click here.
Eugene, Oregon has plenty of golf courses for less than a pair of Nike sneakers
If you're in Eugene this summer for the U.S. Women's Amateur, the Olympic Track & Field Trials or an Oregon Ducks game, be sure to play one of the excellent area golf courses, Brandon Tucker writes.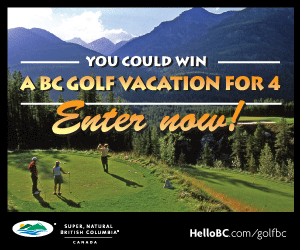 CLIENT FEATURE
Realty auction offers new homes at The Canyons at Laughlin Ranch in Arizona
Looking to buy a new vacation or retirement home in a master-planned golf community? If so, this is the opportunity you've been waiting for! The Freedom Realty Exchange announces an online auction of 13 brand-new homes in The Canyons at Laughlin Ranch. Previously priced from the upper $400's, minimum bids start as low as $142,000.