Remembering Jack and How Great He Was!
By
John M. Ross
,
Correspondent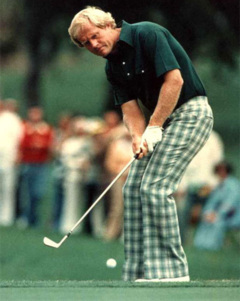 View large image
Without a doubt, golf fans remember how great Jack Nicklaus was. (PGA of America)
It was a scene to remember, there on the Swilken Bridge, the landmark path to the final hole at St. Andrews.
Responding to the pleas of a horde of pursuing cameramen, Jack Nicklaus paused momentarily and lifted an arm to acknowledge the roar of the crowd.
As the cheers swelled, louder and louder, Jack's eyes moistened, and son, Steve, who was on the bag, came forward and put a comforting arm around his father's shoulders.
Golf fans are the most knowledgeable in sport. Really hep. They knew that Jack, at age 60, was likely making his final strokes in a British Open at the Old Course. And they flipped back sentimentally to the memorable days of 1964, '70 and '78, when the Golden Bear won two Claret Jugs and just missed in a third on the hallowed grounds. For the Scottish, auld lang syne comes directly from the heart.
The tumultuous greeting to Nicklaus attracted the attention of Tiger Woods, who was nearby, starting his second round. He paused and looked toward the 18th. He knew immediately it was a "Nicklaus roar," and he smiled and nodded his head in approval.
In my own circle of friends watching the drama unfold on the tube there was a strange silence until one finally said, "They remember how great he was!"
For the past two decades or more, that was the label that had been pinned on Nicklaus - "the greatest golfer of them all." A lot of people - writers, sportscasters, analysts and the like - have been awarding that same appellation to 24-year-old Tiger Woods in recent days. Many of them never saw Jack in his prime, or Palmer or Hogan or Jones, or any of the other "greats." It seems to me, there's been a growing trend among sports fans to elevate the best performers of the current day to "the greatest of all time." This is understandable, especially when the current hero is breaking the records of the old-timers.
All that aside, I'm sticking with Nicklaus - at least for a time. And I'll tell why.
In my early days of dealing with golf on a day-to-day basis, I was part of "Arnie's Army" - a quiet member, out of necessity. And when Nicklaus came along to join the PGA Tour in 1962, fresh out of Ohio State and with two U.S. Amateur titles in his pocket, many were quick to speculate that he was the "next Arnold Palmer." My reaction was simply, "we'll see."
In 1962, Palmer continued his merry winning spree, racking up four early-season victories and still another Green Jacket in the Masters. But all this was merely a warm-up for what he hoped would be the crowning point of the season - the U.S. Open, played at Oakmont in Arnie's Pennsylvania backyard.
While I inwardly rooted for Palmer, I did feel some compassion for Nicklaus. An enormous turnout of Arnie's neighbors had created a new Open attendance record, and poor Jack didn't seem to have a rooter among them. And in those days, he was not an appealing sight. Some of the media called him "Ohio Fats," and when he waddled down the fairway you could see why. Alongside Arnie, he looked little like a sports hero. But when he teed it up - watch out.
The much-ballyhooed show turned out to be a classic. After trailing Palmer for most of the early play, Jack finally caught up with him with five holes to play and they parred-in to tie at 282, 1-under. To further percolate the drama, both missed birdie putts on the final hole. But in the 18-hole playoff, Palmer's huge rooting gallery looked on glumly as Jack breezed to an easy 71-74 win, wire-to-wire.
It was Jack's first victory as a professional, and it put him in the record book as being the first to hold both the U.S. Open and the U.S. Amateur simultaneously. I was duly impressed.
In the years that followed, Jack seemed to march through the record book, page by page, making a new, and often startling, notation. By age 39, he had won each of the four Grand Slam major championships at least three times, and most of us thought it was now wind-down time. Most of us, but not Jack.
He had another star to add to his crown at the 1986 Masters. He hadn't won there in more than a decade, and in the last few years had not been in contention. And at age 46, he couldn't be expected to put red numbers on the board - not even at Augusta National, where he had won five Green Jackets over the years.
With 74-71 in his first two rounds, he wasn't in the hunt. And his 69 in the third still didn't get him in with the leaders. But with only four holes to play, he launched a final charge that surpassed even some of the historic finishes posted by Palmer at Augusta.
With a run of eagle-birdie-birdie-par, he erased Seve Ballesteros' four-stroke lead and won his sixth Masters with a 279. Again, at age 46.
There was a scene at that same Masters that came into clear focus when I watched that Nicklaus farewell to the Scots on the Swilken Bridge recently. It was on the par-5 15th at Augusta, where Nicklaus canned a huge eagle putt. When the ball dropped, Nicklaus and his caddie-son, Jack Jr. this time, jumped for the nearest cloud in joy. The photographs of this scene have been published for years and years, and will undoubtedly live forever in the annals of golf.
Of course I also have lasting memories of Nicklaus losing. They only add - not detract from - to the image of this incredible golfer because they represent the drama and excitement of the game as a spectator sport. For instance, Lee Trevino chipping in from off the green at Muirfield to win the 1972 British Open and spoil what seemed to be Jack's march to a Grand Slam in one year. Or Tom Watson's much-replayed chip at Pebble Beach to snatch the 1982 U. S. Open from Nicklaus' hands. They were unforgettable battles.
None of this should minimize the hard-to-believe achievements of Tiger Woods in his brief pro career. He has become the youngest golfer to win the career Grand Slam - Nicklaus was 26 - and he has raced across the golf scene like a prairie fire. Just imagine, winning a Masters by 12 strokes, a U.S. Open by 15 and a British Open by 8 strokes and 19 under par on three of the most challenging courses in the world.
He has won four majors, and he needs only 14 more to tie Jack.
We have a great one in our midst. But now we need challengers to provide the tests for Tiger to make it exciting. We don't seem to have any, and if we don't get some soon, the tournaments will start looking like driving range exhibitions with the Tiger on the tee.
Anybody want to take on the Tiger?
(c) Copyright John M. Ross
July 31, 2000