At Last, a Smile from the Man Behind the Mask
By
John M. Ross
,
Correspondent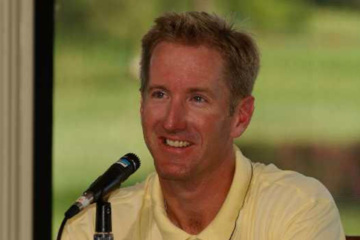 View large image
Following his win in the British Open, David Duval took off his cap and wraparound dark glasses and - smiled. (PGA of America)
American golf fans, especially those who have joined the ranks more recently, are beginning to realize that major championships aren't necessarily decided the moment Tiger Woods arrives at the first tee. And that the perennial runners-up, dispirited though they may be, can break loose from their mental shackles and win on occasion.
Some of these encouraging factors, and numerous others, came into clearer focus at the British Open, when David Duval, a charter member of The-Best-Golfers-Never-to-Win-a-Major fraternity, finally surrendered. Not outwardly gleeful, but convincingly, nevertheless. In the meantime, that chorus in the background was the start of the customary chant: "What's wrong with Tiger?" (He finished far back, tied for 25th.)
True, Duval has blown or fumbled golden opportunities to win major titles over the past few years, and quite often Woods wound up with the silverware. The chances of a similar script this year at Royal Lytham and St. Annes apparently appeared quite feasible to many - including the British bookmakers. They pegged Tiger as an 8-5 favorite, while Duval was listed by some at 25-1. But we should also remember that Duval was No. 1 on the world rankings some two-plus years ago, and many thought he would be the man to slow Woods' rapid ascension to the top of the heap.
I don't believe Duval was fully convinced of that, and this could have triggered the nosedive that followed rather inexplicably.
Indeed, Duval has had the company of other superstars like Colin Montgomerie, Phil Mickelson and Jesper Parnevik in that odd fraternity, and the breakthrough at Royal Lytham has formed the basis for the speculative game of "Who's Next?" That test will come at the season's final major, the PGA Championship (Aug. 13-19) at the Atlanta A. C., just a few miles up the road from Duval's alma mater, Georgia Tech.
Of that trio, the one who isn't likely to leave the ranks of the wannabes is Montgomerie - and he may never leave. Based on his swoon at Royal Lytham, there seems to be an emotional glitch in the big fellow's mental framework - I'm sure the head doctors have a ten-syllable term that describes it. It showed up in his TV interview after firing a masterful 6-under 65 for a cozy first-round lead.
"This is only the first round," he told the interviewer, "and I'm not thinking about the weekend at all." He mentioned "The weekend three more times, and you knew that's exactly what he WAS thinking about. Probably envisioning himself holding up the Claret Jug on Sunday at the presentation ceremony, enjoying at last the roar of the crowd one can only hear at a British Open.
He seemed to go through emotional flip-flops that entire first day, as the enthusiastic Brit fans greeted him at every tee and green. When he came in at the 18th, you could see tears well up in his eyes when the huge gallery, in grandstands on either side of the green, gave him a welcome you could hear all the way to Blackpool.
"I wonder how much longer he'll stand up to this," the fellow on the stool next to me mused. "He's not very good with this emotional stuff."
Monty has always tuned into the gallery, and what he picks up isn't always music to his ears. One of the main reasons why he has never won a tournament in the U.S., many believe, has been his sensitivity to the barbs and jibes of his American cousins. This was especially significant in the Ryder Cup matches at Brookline, where the flags were flying and the them-against-us rooting factor prevailed. Monty turned on the crowd again and again.
The American press calls Monty "Rabbit Ears," and one has said that "he can hear a caterpillar in the tall grass hiccup." Everything bothers him. Time and again, he'll set up for a putt and then step back, indicating that something has disturbed him. Often he'll stand up and look skyward, indicating there's a plane, but usually there isn't even a butterfly to be seen.
Adding to the complexity of all this is the basic fact that Monty has a sound game. He was the leading money winner on the European Tour for seven consecutive years, and at one time was ranked at No. 2 in the world. But at the British Open he has played like a wimp. The 38-year-old Scot's best finish over the years has been a tie for eighth.
After his commanding lead at Royal Lytham, Monty put up a 1-under 70 in the second round to remain in front. But now his putter failed him, as he missed consistently within six feet. He fell back with a 73 in the third, and sank even deeper in the last with a 72. At 280, he tied for 13th, 4-under, and six strokes behind Duval.
Incidentally, an alert media observer reported that Monty made a point of parking his car in the same space every day after his sizzling opener, and also had the same snack, a bacon roll in an equipment trailer before starting a round. Not a sign of overconfidence there!
It will be a long time - well beyond the upcoming PGA - before he recovers from his flop at Royal Lytham.
They had Phil (Never on Sunday) Mickelson at 12-1 on the betting board, making him the second choice. Unlike his normal pattern, when he stays near the top until Sunday, this time Lefty was never really in it. He was as far back as 40th at the start of the final round, but came back with a 71 to get a tie for 30th.
Here again, the well-liked Californian is one of the very best on the tour. More than a few say his shot-making skills are better than Tiger's. Here, too, his inability to win the big one is attributed to some kind of mental stress that corrupts his ability to make the shot when it counts the most.
He's been talking lately about being more relaxed on the course, keeping his mind unburdened. That could help. But he didn't look like the world's No. 2 player at Royal Lytham.
Parnevik, the colorful Swede who tries to fulfill his flip-top image, really looked as if he might finally break his majors drought when he posted a nifty 69-68 start. But he slipped after that and got some attention in the final heat largely because of his Pepto-Bismol-pink slacks. He finished T-9, five strokes behind Duval.
Duval's opening 69 was well back of Monty, and when he followed this with a dismal 73, it began to look like the same old Duval fold in the big ones. But this time, he reached back for the little extra that is the mark of a champion. He played superb golf as he carded 65-67 over the last two trips, and his 274 gave him his first major with three shots to spare.
It wasn't a very exciting march to victory. Other than his excellent variety of shots and, in this case, masterful putting, Duval is not a very exciting player. Unsmiling and unemotional, he strides about like a stiff-legged Marine drill sergeant and practically ignores the gallery. But at the very end, when the stadium gallery at Royal Lytham hailed his triumph, Duval finally did bend a little.
He took off his cap and his wraparound dark glasses, waved an arm, and then, yes, smiled ever so briefly. It was his first smile of the tournament, and, of course, he saved it for the right moment.
We might see Duval back for a few more of these big ones now that he has broken the ice. His father, Bob Duval, who plays on the PGA Senior Tour, almost guarantees it. In his review of David's climb up the ladder from Junior golf, every time he has won a significant championship it has touched off a string of other wins.
If father does know best, no one should be surprised if that fellow in the winner's circle at the PGA Championship is the man behind the mask wearing another smile.
(c) Copyright John M. Ross
July 25, 2001