Look, Ma, Here's Another Golfer Who Can Break Records!
By
John M. Ross
,
Correspondent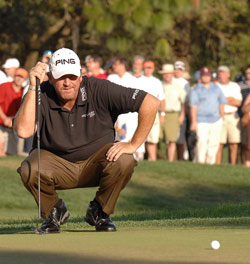 View large image
Could an easing of equipment restrictions help older pros like Mark Calcavecchia? (.)
The sounds in the Grill Room usually are better barometers for measuring how the golf winds are blowing than most polls or focus group studies.
"Didn't I hear you fellows saying that this was going to be an even-better year for Tiger? the big man at the end of the mahogany bar was saying. "You said there wasn't anyone out there to beat him. So who is this Cal-ca-something? Shoots the lowest score in 46 years!"
"Well, that's just one of the records Tiger didn't break last year," someone chipped in. "He almost rewrote the book, broke something almost every time he played.
"His name is Calcavecchia, and he's 40 years old, which means there's hope for all of us," another added happily. He shot 256 - 28 under par for 72 holes. It's hard to believe, isn't it?"
"Especially when you've had guys like Hogan and Nelson, Palmer and Nicklaus and others shooting at it."
"And don't forget Woods," someone else barked pointedly.
"What you guys forget is that this is golf. It's different from the other games. There's always going to be somebody out there who can beat you on a certain day playing the game like he's never played it before. That's what makes it such a fascinating game."
The discussion of the incredible feat in the Phoenix Open by the middle-aged Mark Calcavecchia gained momentum as it circled the bar. Some wonder if Mark's unprecedented shot-making had a negative effect on Tiger, since the latter surrendered a few marks of his own. His second round 73 broke his remarkable string of 52 straight rounds of par or better, and finishing 15 shots off the winning pace, it was the farthest behind Woods had been in three years on the tour.
But, like the man said, that's golf. Indeed, while Calcavecchia's record-breaker might have puzzled some, it did turn on the light of hope for many others. It stated in rather strong terms that there are fellows out there who can win decisively, and that the future of the PGA Tour and the major championships might not simply be a monotony of Tiger Woods' triumphs.
---
Now that Golf Digest and Golf World have been merged with Vanity Fair and Vogue, I wonder if the guys will tell the gal editors, slowing the pace of things at the water cooler, to "move it along."
Just idle thought.
---
The big buzz at last week's PGA Merchandise Show in Orlando, Florida, was a surprise meeting between equipment committees of the U.S. Golf Association and the Royal and Ancient. Ever since the rift between the two ruling bodies over the issue of the spring-like effect on nonconforming drivers, golf industry officials have been hoping the two groups might be able to resolve their difference with face-to-face meetings.
The secretive session in Orlando, some say, could mean an easing of the USGA position on the new technology.
While this development cheered some, other industry leaders at the PGA Show were singing the blues. They pointed out that the new highs in attendance and TV ratings were great for the game overall, but they didn't translate into more rounds of golf being played. Equipment sales are tied to rounds.
The new gains, the point out, nicely affect spectator golf and the game's image, but they don't help their bottom lines.
---
Already enormously popular with American fans, personable Sergio Garcia, the 20-year-old Spanish slammer, boosted his rating even higher when he showed up at the AT&T Pro-Am with his kid sister, Mar, as his amateur partner. She is 17, as outgoing as El Nino, and she can really play. The gallery took them to its heart as they bounced along the Pebble Beach fairways rooting for each other's shots.
To complete the family picture, Poppa Garcia Victor, a club pro in Spain caddied for Mar. And the fans liked that, too.
Mar, who plays to a 4, has caddied for Sergio on numerous occasions. She is long off the tee and seems like a good bet to wind up on one of the ladies' tours before long. She expects to enroll in an American college next year, probably in the Southwest.
---
Do you like puzzles? Try this one: David Duval, No. 3 on the world rankings chart, is being sued by Acushnet Golf, parent company of Titleist and Footjoy World Wide, for breach of contract. Duval, longtime member of the Acushnet stable, signed a contract extension worth an estimated $5 million last September, to play the full line of Titleist products. It was a most cordial occasion for both.
A few months later, after Duval was seen wearing and using brands of Titleist's competitors, Duval revealed that he was bailing out of his Acushnet contract. He indicated he could do this since he had an escape clause in the pact that permitted him to leave if Acushnet took actions that demonstrated that he was no longer considered a key player in its stable.
His action came shortly after Acushnet had signed Phil Michelson and David Love III to whopping endorsement deals. Insiders say the money involved caused Duval to feel he had been dropped several notches down in the Acushnet pecking order, even though he had a lofty perch in the world rankings.
What is Duval's solution to this? Latest word is that he'll wind up in the - hold on, now - Nike camp. Yes, that's where Tiger Woods is king of the walk, has a $100 million contract, and a slice of Nike's profits.
I give up. I can't figure that one out. Can you?
Supreme Court watchers and veteran court analysts came away from the recent hearings of the appeal of the PGA Tour to uphold its ban on Casey Martin's use of a golf cart during tournament play, agreeing on a major point. The pattern of questioning by the jurists, they claim, indicated a leaning toward the rights of a sports organization to set its own rules.
Earlier, Martin, whose disabled leg prevents him from walking any distance, had a lower court rule in his favor under the protection of the Americans With Disabilities Act.
A decision will be announced in June.
(c) Copyright John M. Ross
February 3, 2001