Good Listening Doesn't Always Pay!
By
John M. Ross
,
Correspondent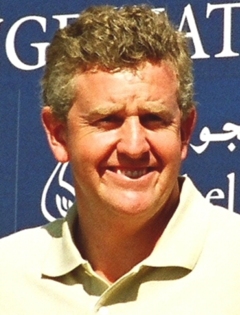 View large image
Colin Montgomery sounds like a fellow who simply wants to be loved. (.)
If you've been occupied keeping tabs on how many records Tiger Woods has shattered in the past week or two, then you probably haven't noticed that Colin Montgomery has finished still another year without a major title to his credit. And you can chalk this up as one of golf's mysteries, as if the game didn't have enough already.
Montgomery has been making golf analysts and forecasters look like buffoons for some time now. Year after year, they have had his name prominently listed with the favorites as the handicap charts are drawn up for each and every major. Just as regularly, he has flopped. In his most recent effort, he finished tied for 39th in the PGA Championship, a mere 16 shots behind the Tiger.
Make no mistake about it, the big Scot is a fine player, one of the best to come out of Europe in the past decade. He has been at the top of the European Order of Merit (money list) for seven consecutive years, and he still ranges in the top five on the world rankings. So, what's the problem? His head. Or, more specifically, his ears.
Monty can pick up any sounds within 50 yards some say, even the soft sigh of a grasshopper in the tall rough. And if this occurs while he is preparing to hit, it almost destroys him. At least he thinks it does. And it can serve as a handy excuse for a poor hit or a mistake.
On top of this, he insists on chastising the gallery for its noise or discourtesy, and even tries to respond in kind to criticism. He has fared as well in this match-up as he has in the majors - zero! And he has become so sensitive to the duel, some think he seems more concerned with a response to the heckling at times than he is with shaping the next shot. And, again, the results are all downhill. His record for play on American soil bears little resemblance to the numbers he's put on the European boards.
Monty has become widely known among fans, and players as well, as "Rabbit Ears." Cartoons and caricatures showing him with king-sized Peter Rabbit appendages are common in newspapers and magazines, and very often are quite funny and talked about among the fans. One cartoonist, more in tune with current trends, had Monty outfitted in radar equipment, with an antenna over his head.
American fans seem to bother him the most, although he is taunted almost everywhere he plays. His reputation precedes him, and some fans seem to take great delight in taunting him, especially when they can see the steam come out of his ears and the next shot land in the bunker.
If the Yanks blister Monty more than the others, that likely is his own fault, too. From time to time, he has ripped the conduct of the American gallery with considerable bitterness. And the message seems to reach the mark.
"If you're going to dish it out like that," one fan told a TV reporter, "you have to be able to take it. Montgomery's a crybaby. He'd like to blame the fans for his bad scores."
Montgomery does seem to go at it with the crowd more heavily when he's playing poorly. He scowls, stares at someone he suspects of moving during his swing, and then walks with head down back to his bag, brooding.
Montgomery, who took considerable ribbing from the crowd about his weight, has trimmed down considerably - about 20 pounds in the past year - but there's been no noticeable decline in the heckling. Simply a different tack.
In discussing his dilemma, Monty sounds like a fellow who simply wants to be loved, but doesn't know how to go about it. He readily admits that the distractions upset him, and that he would be much better off if he could simply shrug them off and go on with his game. But he says he can't. He's not built that way. So the beat goes on.
Colin Montgomery is not the first super-sensitive golfer to come down the fairway. He might have the thinnest skin, but there have been other "rabbit ears." Sam Snead and Tommy Bolt, back in the old days, were inclined to be edgy, but contemporary Ben Hogan was the textbook example of total concentration. He played as if he was in a sealed isolation booth; spoke to no one, not even his playing partners. The results spoke eloquently.
Nick Faldo, Lanny Wadkins, Greg Norman, Hale Irwin, Curtis Strange, and even Tiger Woods, among the more recent "name" players, have been cited the most often for being able to hear a pin drop.
Jack Nicklaus, too, although he really deserves an asterisk next to his name. When he first arrived on the PGA Tour, Arnold Palmer was riding high, and many resented the challenge of this young upstart. They called him "Ohio Fats," and some would even cheer when his drive found the rough. But, here again, talent won out. Before long there were only cheers for his ears.
Lee Trevino has always been sensitive to the gallery, but the "Merry Mex" thrived on this. He chatted with the fans constantly, exchanged barbs with them, and sometimes after a particularly good chip from the first cut, he'd turn to the gallery behind him and say, "How about that shot?"
Perhaps the most memorable Trevino quip came at Muirfield, Scotland, after he'd canned a pitch from above the hole to beat Nicklaus in the 1972 British Open. As the ball dropped, the beaming Trevino turned to the gallery, arms extended like a maestro, and proclaimed: "God is a Mexican."
Of course, golfers aren't the only athletes with "rabbit ears," but the proximity of the golfer to the fans does provide a unique situation. In the other sports, played before grandstands, there is a buffer zone of separation that helps, although many leather-lunged fans find it easy to penetrate. This is particularly true in baseball, where some fans take great delight in riding certain players, and it drives certain players nuts.
Veteran baseball writers tell the classic story of Walter "Boom-Boom" Beck, a much-harassed pitcher for the old Brooklyn Dodgers. As his name might imply, he had the bad habit of suddenly giving up a rash of big hits, sending the distraught fans into a frenzy. As the booing and catcalls began, the manager would head to the mound to give Beck the hook. And Beck, his ears ringing, would boil.
On this day, Hack Wilson, who had held the National League home run record of 56 for many years, was playing left field for the Dodgers. Wilson could also achieve some record-setting performances at the bar after dark, and he was not having a pleasant "day after." Batters had been lining Beck's pitches against the wall, and Wilson had to scramble to retrieve them. At this interlude, Wilson, his head throbbing, leaned over with hands on knees and rested. And, undoubtedly, dozed a little, too.
When the manager asked Beck for the ball, a normal procedure of rescue, he was ignored. Beck was boiling; the booing always did that to him. Now, he whirled and threw the ball on a line toward the left field wall. Wilson, aroused from the daze by the crack against the wall, and thinking it was yet another hit off Beck, turned in groggy pursuit. He pounced on the ball, and almost by rote, fired a perfect strike to a startled infielder at second base. The crowd roared with delight, and Hack went back to his hands-on-knees snooze.
Montgomery isn't very optimistic about the American fans ever taking him to their bosom. And since three of the four majors are here, his chances of breaking through for his first win are slim at best, especially at age 37. Perhaps he'll simply have to stuff those "ears" or turn off the radar!
(c) Copyright John M. Ross
August 23, 2000