The Private Club: An Endangered species?
By
John M. Ross
,
Correspondent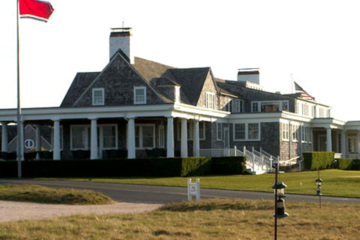 View large image
Generational changes seem to be changing the makeup of many private country clubs. (Courtesy of Roger Rowlett)
Golf and golfers have shared in the booming national economy over the past decade, and yet some of the growth charts for the game are puzzling. For instance, America's golfing population - 12 years and older - increased 1.6 million in the '90s, and more than 2,500 new courses were opened for play. And yet, with all this prosperity and frantic reaching for a higher rung, there are now 353 fewer private courses in the United States than in 1991, according to a National Golf Foundation survey.
Analysts chalk this up to a generational clash between the older, more conservative type member who seeks to preserve the traditional golf country club, and the younger type who is looking for a broader recreational facility for his wife and young kids. Apparently it is a clash that could be causing some clubs to fade away.
I tuned in on a rather depressing discussion among a couple of fellows who were members at a suburban Connecticut club that seemed to be confronted with such a problem. Here again were the older members who had joined their club because it had one of the best courses in the state and a glittering reputation as a golf club. Lining up against them was a younger group, 40 to 50 mostly, their pockets bulging with huge profits from the bull market, who wanted to turn the club into something else.
"All of a sudden, everything was wrong with the club," the big fellow on the end said. "They claim the clubhouse is too cramped. We need a bigger ballroom, more snack bars at the pool for the kids. Everything's wrong."
"A big complaint is that we don't have valet parking," another chipped in. "We can't have the cars pull up to the front entrance, and the wives have to walk 50 yards or so from the parking area."
From what I pieced together, the club has been there for 50 years or more, and the members, golfers all, had achieved something special. In the beginning, they had a large countryside building as a makeshift clubhouse. Mostly, a place where they could change their shoes and have a sandwich and a drink after the round. But through dedication and sacrifice, they expanded the house, added a ballroom, a dining room, locker rooms, a pro-shop - there was always a new project in progress, a new assessment. And as one pointed out, almost in despair, "how about that $800,000 new kitchen we put in two years ago."
"I can't believe they now think we should tear this down and build a new clubhouse. For how much - $8 million?"
And that didn't even include new locker rooms for the golfers, but it did call for an enlarged swimming pool area, more wading pools and saunas, and play facilities for the kids.
"If everything is so bad here," the big fellow asked, "why did most of these guys spend four to five years on a wait list to get in?"
It was a sad, depressing rundown, and the next time I stopped by that grill I asked the bartender if he had heard anything about the club.
"Yeah, the new millionaires got their butts kicked. They lost the vote by about three to one," he replied cheerfully.
Apparently, the number of private clubs with internal problems or attacks on their private status and the limited use of choice land by a select few are going to become more frequent and get louder. Women are bringing clubs into court to obtain equal privileges, better starting times and the like. And activists have made more progress in their attempts to make it more difficult for a private club to operate as they have over the years. They are now focusing on the club's income from rental of the facilities for corporate golf outings, non-member weddings and other events, hoping to show that such clubs are not entitled to the protection afforded by the "private" status, but are in fact "public accommodations."
The private clubs have survived - and even flourished in some cases - through a couple of wars, depressions and even an extended period of corporate maneuvering, when firms seemed to move their young executives around the country every few days. But even in these days, when Wall Street's merry ride encourages investment, it's easy to understand why there is little interest in building private golf clubs.
Happily, there has been a steady growth in the non-private facilities, but the courses don't seem to be any less crowded. The municipal courses still have the longest waiting time at the first tee, simply because they haven't kept pace with the surge in the golf population. For example, in the 20-year period between 1970 and 1990, only 650 muni courses were built nationwide, while the number of golfers jumped from 11.2 million to 27.8 million. This, too, is the work of the anti-golf faction.
Since a golf course requires about 150-plus acres of open space, any proposal to use such land for a course to be built with public funds becomes a target of the so-called activists. Immediately, the cry goes up for low-cost housing, and before long figures and charts are developed to show how many units could be built on that land, and how many families could escape from rundown housing, etc. With rare exception, the next stop for the proposal is the "deep six." Politicians are like that.
On the brighter side, the NGF survey does show overall growth for the game, and with a general trend toward earlier retirement, a keener awareness of the need for exercise and fitness, and a few extra coins in the pocket for recreation, the upward trend should continue.
Don't sing the requiem for the private club. They are on a downward curve on the graph, true, but we still have 4,760 and they still have an important impact on the game. If you have any doubt about this, ask a club member what the waiting list is like at his club - how long does it take to get in.
At my place, it's still seven years.
(c) Copyright John M. Ross
July 17, 2000