Tufts' Love: Archives tell tale of Donald Ross and Pinehurst golf

By
Tom Spousta
,
Contributor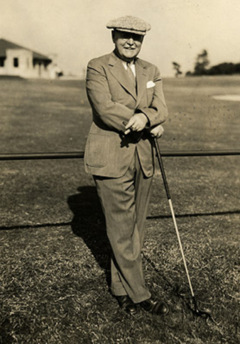 View large image | More photos
The Tufts Archives houses Donald Ross' personal letters and correspondence, giving an intriguing timeline to where and when Ross worked his architectural magic. (Courtesy of Tufts Archives)
PINEHURST, N.C. - Looking back, the sequence of events leading to golf at Pinehurst Resort seems so fragile, so random, that you wonder how fate didn't take different twists and turns circa 1895.
Like when James Walker Tufts, one of the pioneers of the soda fountain, stepped off the train in Southern Pines and first set eyes on a barren patch of the Carolina Sandhills. Tufts would sell his company in order to purchase the property. What if he had just gotten back on the train and decided he wanted a waterfront view in Myrtle Beach instead?
Or suppose it was rainy and cold that day in 1897, and a group of well-to-do northern guests opted to hit the recently opened Magnolia Inn bar rather than hit golf balls into a dairy farm they used as a makeshift practice range. Nobody would have complained to Tufts about the cows, and Pinehurst's first nine holes might not have been commissioned.
What if Donald Ross had simply declined the offer to become Pinehurst's golf pro in 1900 and taken a job elsewhere? There might not be any story behind the storied Pinehurst No. 2.
The Tufts Archives: Chronicling Pinehurst's history
The Tufts Archives, located in the Given Memorial Library, probably wouldn't be here in the Village of Pinehurst. The Ross Collection, the finest compilation of his works and memorabilia, might be elsewhere, too.
The detailed exhibit includes over 100,000 images from 1895 to present and tells the story of the Tufts family, the Village of Pinehurst and, of course, Pinehurst Resort. The archive is a must-stop for Ross aficionados, but even casual golfers will marvel at the scope of his work.
The Ross Collection features more than 300 of his original field sketches, layouts and blueprints from the estimated 400 golf courses Donald Ross designed. His personal letters and correspondence are there, too, giving an intriguing timeline to where and when Ross worked his architectural magic.
For example, I was able to view most of the blueprints for Sara Bay Country Club, the course I live on in Sarasota, Fla. I even saw his design for the sixth hole, a short par 4 which backs up to my house and looks the same as he originally drew it in 1926.
I also learned of a Ross course that once occupied the south end of nearby Longboat Key about the same time. John Ringling, the circus magnate, had begun construction on a Ritz hotel at the site, but the stock market crash of 1929 doomed the project. Ross' 18-hole layout was open for play, but eventually abandoned along with the partially built hotel, and the property was overgrown by vegetation. The Longboat Key Club resort and its Islandside Course have been there for almost 50 years.
Indeed, a definitive list of Ross courses has proved elusive. The Tufts Archives, in conjunction with the Donald Ross Society based in Bloomfield, Conn., has been trying to unearth some of those mysteries. The project is being led by Jan Ludwig, a volunteer at the archives and retired college professor from New Hampshire who spends winters in Pinehurst.
So far, he has put together a documented and confirmed list of 380 or so true Ross designs. "You'll see lists with 600, but I don't believe that," Ludwig says. "There was a good amount he did that were remodels, or among even those, nine-hole courses."
There's little to speculate about in regards to Tufts' founding of Pinehurst, how golf got started there and Ross' arrival.
Tufts sold his interest in the American Soda Fountain Company for $700,000, and his original plan for Pinehurst was to build a health resort for people of middle income who had the first stages of tuberculosis. North Carolina's climate and air was thought to help cure the disease. In 1895 Tufts ended up with 6,000 acres at a cost of $1.25 per acre. Estimates had put the land at 85 cents per acre, and local folks thought Tufts had been taken to the cleaners.
One can imagine the look on Tufts' face when a farmer on his dairy farm complained about those guests hitting golf balls into the pasture. Tufts was concerned too - for his investment in the cows and milk production. So he simply relocated the golf facilities and hired Dr. Leroy Culver of New York to begin designing a golf course, a nine-hole layout opened in 1899 that later became Pinehurst No. 1.
Ross, of course, said yes to taking the golf pro job in 1900, lived and worked here until his death in 1948, and storied Pinehurst No. 2 opened in 1907. The rest is history, particularly of the U.S. Open kind.
"It's really a two-way street," says John Root, a volunteer at Tufts. "When Ross came, he came to run the golf shop. At that time, there were a lot of affluent people who came here, and they liked his work and would ask him to do work for them."
Apparently, it was his and Pinehurst's destiny.
Planning a Pinehurst golf trip
For help in planning a golf vacation to Pinehurst, visit ResortsGolfAndSpas.com or call 800-767-3574.
More photos
«
»
January 20, 2009
Veteran golf writer Tom Spousta keeps one eye on the PGA Tour and another watching golf vacation hotspots and letting travelers in on the best place to vacation. He has covered golf and other sports for USA Today and The New York Times. Tom lives on a Donald Ross-designed golf course in Sarasota, Fla.