The Fountains: A roomy Orlando resort near great Florida golf

By
Tim McDonald
,
Contributor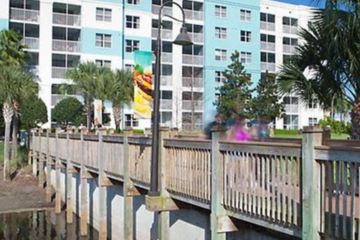 View large image | More photos
The Fountains resort sits close to Orlando's main vacation attractions including Sea World and Disney. (Courtesy of Bluegreen Vacations)
ORLANDO, Fla. -- The Fountains is a comfortable, relatively new resort located on south International drive, a comparatively peaceful area of Orlando that is nevertheless still close to all the city's vacation attractions. It's only three miles from Sea World and eight from Walt Disney World.
It was built in 1998, renovated three years ago and has 214 villas in six-story buildings. The villas are designed for longer stays, with two bedrooms and washer/dryer facilities. Rooms have high-speed Internet access, full kitchens and screened balconies where you can see the fireworks at the Magic Kingdom. The main bedroom has a whirpool.
The main hub of activity revolves around Lake Eve, which has a beach, boardwalk and pier. There's boating, sailing and fishing in the lake, and tennis, volleyball and basketball on its shores.
"The lake is absolutely lovely," said Genieve Bowen, on vacation with her family from New York. "The kids never run out of things to do, even when they're exhausted from Disney World."
There is a 6,000-square-foot indoor/outdoor swimming pool with a poolside bar, restaurant and cafe. The 20,000-square-foot clubhouse has video games, ping-pong, billiard tables and a snooker parlor. There is a separate teen center and kids' activity area.
The resort is also close to the Orange County Convention Center, and shoppers love the outlet mall down the street. It's also within fairly easy driving distance to Wet and Wild Universal Studios' Islands of Adventure.
The Fountains is a Bluegreen resort property. The company has vacation resorts throughout the South, as well as in Michigan and Wisconsin.
For the golfers in the family, there are some excellent, close golf courses.
Golf courses near The Fountains
You can golf at nearby Hawk's Landing, or tee it up at Grande Pines. The savvy golfer will use Hawk's Landing as a warm-up. Or maybe a cool-down.
Whereas Hawk's Landing is a perfect example of a resort course, with immaculate grooming and a player friendly layout, Grande Pines might ruffle your feathered pillows if you're looking for an ego boost.
Grande Pines was designed by Steve Smyers, who did the superb Southern Dunes a half hour away in Haines City. Nick Faldo was a player consultant on the course.
It is dramatically different from Hawk's Landing, both in visual appeal and challenge. It is longer, first of all, at 7,012 yards from the tips, compared to Hawk's Landing's 6,600 yards.
Whereas the fairways at Hawk's Landing are wide and inviting with gentle mounding and little rough to speak of, you'll maybe find yourself a little hot and bothered standing on the tee box at Grande Pines.
Nearby Falcon's Fire Golf Club fits in well with the Orlando golf scene: An upscale, semi-private course that appeals especially to tourists looking for pristine conditions, picture-perfect Florida wading birds and a welcome-to-Orlando layout that will let them brag to their friends back home.
It's a Rees Jones design that opened in 1993 and it shows his classic, traditional values, very open in the interior and with fairways as wide and inviting as Orlando International Airport.
It's 6,901 yards from the tips and playable from back there, since it encourages you to swing like there's no tomorrow. There is a bit of rough to slow you down, but it's difficult to lose balls on a course like this.
Conditioning is the star attraction here, with the fairways and greens in tip-top shape, with beautiful flourishes of flowers and other plantings. The service matches the conditioning, with free, valet parking, attentive cart girls, and color GPS with tips.
Other nearby courses include Oaks National Golf Club, MetroWest and Hunter's Creek.
More photos
«
»
December 10, 2007
Veteran golf writer Tim McDonald keeps one eye on the PGA Tour and another watching golf vacation hotspots and letting travelers in on the best place to vacation.