Golfers have it made in the shade at luxurious Rancho Valencia Resort & Spa near San Diego

By
Brandon Tucker
,
Managing Editor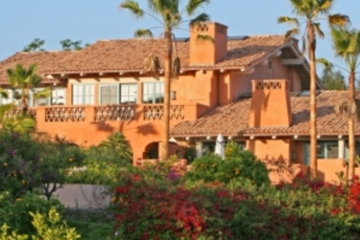 View large image | More photos
Rancho Valencia Resort & Spa sits in the hills of Rancho Sante Fe near San Diego. (Courtesy of Rancho Valencia Resort)
Special tee time access to nearby private golf courses make Rancho Valencia Resort & Spa a top splurge for golfers visiting San Diego.
RANCHO SANTE FE, Calif. -- With no golf course of its own, Rancho Valencia Resort & Spa isn't an obvious pick for golfers in the golf resort-loaded San Diego area.
But there are several reasons for golfers to stay at this 40-acre, secluded luxury resort, just a few minutes from world-class California beach towns such as La Jolla and Del Mar.
Rancho Valencia is known as a tennis destination. It has 17 tennis courts spread out in six clusters that are surrounded by gardens. It is also buzzing during horse racing season (July 20-Sept. 7, 2011). Just minutes away is Del Mar Race Track, featuring live thoroughbred races, betting and a summer concert series that this year hosts the likes of Weezer, ZZ Top and the B-52s.
The resort is part of the Rancho Sante Fe luxury community set into the lush, green hillsides, where hot air balloons fill the early evening air. Some of the world's elite have been guests, including Bill Gates, President Bill Clinton and Michael Jordan.
Rancho Valencia luxury
An Auberge Resorts brand luxury resort property, the resort has just 26 casitas with 49 one- and two-room suites. These hacienda-style units are open and airy with high, cathedral ceilings and plenty of sunlight. The units, which range from 850 to 1,250 square feet, feature spacious bathrooms and living areas. In the morning, a jar of fresh orange juice and a newspaper is waiting outside your door, which you can enjoy on your private patio. A table full of snacks, a mini fridge stocked with beverages, as well as both a coffee and express maker, also are included in the room.
The resort added a 10,000-square-foot spa in 2006. But if you book a Casita Jr. Suite with Spa, your private garden terrace includes a personal hot tub for two. The bathroom is highlighted by a two-point shower system that also has a steam room function.
Dining has become even more appetizing with the addition of new chef Eric Bauer. Guests can dine in the brasserie-style, casual setting in his new restaurant in the main building. It features an ever-changing menu that Bauer describes as "uncomplicated" and highlights seasonal catches with a farm-to-table emphasis. You can start out with an assortment of cheese plates both locally and from other cheese-fabled states such as Wisconsin and Vermont. Or you can opt for a selection from the "Raw or almost" menu that features oysters and chilled Baja California white prawns.
Access to Torrey Pines, private golf courses through Rancho Valencia
There is no golf course on the property, but golfers who are guests here receive more perks than at most other golf resorts in the area. Rancho Valencia's concierge can assist guests with access to Torrey Pines North and South, along with two exclusive private golf clubs in the area where chances are you won't have long waits on the tee.
The most convenient country club option is nearby Del Mar Country Club. It is a traditionally designed course by Joe Lee that can play up to 7,226 yards. The "no tee time" policy means fairways are usually wide open.
Also nearby is the Rancho Sante Fe Farms Golf Club (or "The Farms"). Pete, P.B. and Alice Dye designed this club, founded in 1988. Architect John Fought extensively remodeled it in 2000 to improve playability and maintenance.
Guests can get preferred access to Aviara Golf Club in Carlsbad, part of the Park Hyatt Resort Aviara. The course is considered one of the most upscale plays in the area and features tremendous beautification on its grounds.
More photos
«
»
March 25, 2011
Brandon Tucker is the Managing Editor for Golf Advisor. To date, his golf travels have taken him to over two dozen countries and over 500 golf courses worldwide. While he's played some of the most prestigious courses in the world, Tucker's favorite way to play the game is on a great muni in under three hours. Follow Brandon on Twitter at @BrandonTucker and on Instagram at BrandonTuckerGC.