New La Reunion resort captures the spirit of Guatemala

By
Mike Bailey
,
Senior Staff Writer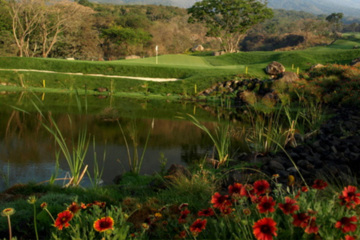 View large image | More photos
The par-3 17th at Fuego Maya Golf Course at La Reunion in Guatemala may be the course's signature hole. (Mike Bailey/WorldGolf.com)
ANTIGUA, Guatemala - According to Roberto Roesch, the Mayan people have a different way of looking at the world. Ownership isn't important to them, and everything is alive: people, animals, trees, rocks and certainly the volcanoes.
Staying at the new La Reunion resort, which opened in late 2008, it's easy to understand their viewpoint. Located between four volcanoes, this land is certainly mystical and very much alive. It's not uncommon to hear the rumblings of Fuego, the closest volcano, which at more than 12,000 feet, is still active. On a clear night, you can also see the eerie glow of the top of Pacaya, which still spews lava. And you can get that view, if you wish, from your own private Jacuzzi or pool behind one of the 26 luxurious casitas at the resort.
It's golf, of course, that will attract outsiders, according to Roesch, one of the 10 investors in the 1,384-acre site that rests on a former coffee plantation. But you'll be captivated by the surroundings and hospitality here. Agua (12,342 feet) and Acatenango (13,041 feet) are the other two volcanoes around the resort, framing the ecosystem known as Boca Costa.
It forms a unique climate between two oceans. Warm during the day, the mountain air cools the subtropical rainforest quickly at night. It's no wonder that this part of the world is known as the "eternal spring," and if you avoid the rainy season here (primarily May through October), the weather is almost surely perfect.
La Reunion Suites offer the perfect view
If you have an early tee time, there's no need for an alarm; just leave the curtains drawn at night. When the sun rises over the mountains to the West, the large windows that span the back of the suite will make you feel like you've awakened outdoors.
The king-sized bed is perched above the living room to give you the best possible view. Not only can you step out to your private pool in the morning, but there's also an outdoor shower. Or you could soak inside in your own whirlpool bath, located next to yet another shower.
The casitas also give up great views of the Pete- and Perry-designed Fuego Maya Golf Course, which is carved into the side of Fuego. In fact, when you check in at the clubhouse, you're given your own personal golf cart to take you back and forth to your room. One bonus of this is that when you leave your room to play golf, you can already have your clubs on the cart and ready to go.
Fuego Maya Golf Course has a mystical feel
Like the resort itself, the heritage of this part of the world isn't lost on the golf course. Each hole is named for a month in the Mayan calendar.
No doubt, Pete and Perry Dye's creation is difficult. Perhaps it's necessary to channel some of the ancient mysticism to conquer it. Well, that combined with some well-struck golf shots.
At 7,302 yards, Fuego Maya Golf Course is all you can handle. Fortunately, there are four sets of tees, as short as 5,578 yards, so if you're not a near scratch player, stay away from the tips if you want to shoot respectably.
No matter how you play it would be difficult not to appreciate the stunning views. Behind every hole, you can see volcanoes. Even the practice range is set against the backdrop of Fuego.
La Reunion resort: The verdict
Original plans called for a larger hotel to be located near the clubhouse, but Roesch said in the foreseeable future - largely because of the world economic downturn - the developers will simply add another 34 casitas, which isn't a bad idea. It would certainly keep La Reunion unique in that each guest could enjoy a feeling of solitude that you can't find at a larger hotel.
Even without a main hotel, service and amenities here are good. The main restaurant specializes in Italian-Argentinean fusion fare, featuring terrific steaks, seafood and some of the most unusual and appetizing pizzas you'll ever get your hands on, including an angus steak pie. The large clubhouse has terrific locker rooms for both men and women, with spa facilities for both. The men's locker-room even has a steam room reserved for shaving. (There is another steam room as well.)
A separate spa is currently under construction and could open by late 2009.
The resort is a perfect launching pad to nearby Antigua, a colorful city of about 35,000 people. Once on the brink of extinction after the eruption of Agua, Antigua used to be the capital of not only Guatemala, but Central America as well.
Today, it's a vibrant arts community, filled with ruins of churches and monasteries. You can get some of the best coffee in the world at its cafes. And if you like beer, you have to try a Gallo, which isn't available in the United States but has a great reputation around the world.
Antigua is also known for its colorful festivals, especially around Easter and Christmas.
For more information, see www.lareunion.com.gt.
Getting to La Reunion and Guatemala
Traveling to Guatemala is becoming easier and easier these days. Most visitors to La Reunion will arrive at the new La Aurora International Airport in Guatemala City, about 16 miles from Antigua and an hour and a half from La Reunion, depending on traffic.
There are daily flights from Dallas, Houston, Atlanta and Miami. There is an airport tax of about $3 for those departing Guatemala, which sits between Mexico and Honduras not far from the equator.
More photos
«
»
April 28, 2009
Mike Bailey is a senior staff writer based in the Houston area. Focusing primarily on golf in the United States, Canada, the Caribbean and Latin America, he contributes course reviews, travel stories and features as well as the occasional equipment review. An award-winning writer and past president of Texas Golf Writers Association, he has more than 20 years in the golf industry. Before accepting his current position in 2008, he was on staff at PGA Magazine, The Golfweek Group and AvidGolfer Magazine. Follow Mike on Twitter at @Accidentlgolfer.