Golf and skiing come together at Homestead Resort up in the 'Utah Alps'

By
Kiel Christianson
,
Senior Writer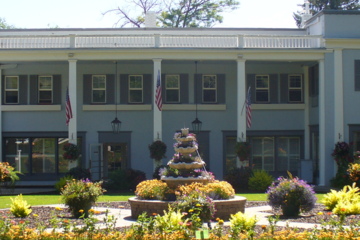 View large image | More photos
The Homestead Resort is steeped in history and country charm, and surrounded by outdoor activities. (Kiel Christianson/TravelGolf)
MIDWAY, Utah -- Utah is one of the nation's best-kept recreational destinations. Sure, the winter skiing is legendary, but the climate and topography are such that all four seasons are rich in activities, and more intriguingly, the seasons often overlap, allowing for simultaneous summer and winter fun.
Homestead Resort, in the heart of the "Utah Alps," has been hosting vacationers for over a century in the high desert of Heber Valley, about 50 minutes north of Salt Lake City. Just a few miles from famed ski resorts such as Park City and Deer Valley, Homestead Resort is ideal for skiers.
In the warmer months, though, Homestead Resort also boasts close proximity to the bountiful brown-trout stocks of the Provo River, its own 7,040-yard, Bruce Summerhays-designed golf course with breathtaking mountain views, and a 19th hole unlike any other in the country.
No, we're not talking about a great pub in the formerly alcohol-unfriendly state (where, by the way, the infamous "blue laws" prohibiting open alcohol sales have recently been repealed). We're referring to the Homestead Crater, a 55-foot high beehive-like limestone rock formation that is filled with geothermally heated mineral water.
The crater lays claim to being one of the oldest spas in the west, having drawn dignitaries and common folk alike for over a century to its restorative waters. Today, those waters, which remain between 90-96 degrees year-round, also attract scuba divers to train in the hourglass depths of the crater, the only warm-water scuba-diving destination in the continental U.S. There's also a swimming platform built for resort guests who just want to soak in the unique waters and environment.
Homestead Resort's Crater Springs Golf Course
Before playing in the famed 19th hole, golfers will want to play the first 18, i.e. Homestead Resort's Crater Springs Golf Course. The clubhouse and pro shop are attached to the resort, and the first-class practice facilities are just a few steps out the back door (and a few dozen yards from the crater entrance). The course itself offers a challenge for golfers of all skill levels, but it remains player-friendly throughout, typical of a resort-style design. The bluegrass fairways and bentgrass greens are well-kept, and the service is impeccable.
It is helpful to remember that everything at Crater Springs G.C. breaks toward the Heber Valley, slightly below the course proper. The Snake Creek runs throughout the course, popping into play at some very inopportune times.
Holes 11-13 can really rack up the strokes, especially for first-time visitors. In the words of one of the rangers, "They'll get your attention." A lot of approaches here are to smallish, split-level greens that are hemmed in on all sides by foliage or the snaking Snake Creek, or both. The sharply downhill 148-yard 12th hole is a perfect example: If you're not sharp with your 140-yard club, this little hole can cause some big headaches.
Crater Springs' 378-yard 16th presents another typical approach to a flat green with absolutely no bailout. In general, the theme at the Homestead is "generous fairways, stingy approaches." To score well here, solid iron-play is a must.
And a word to the wise: According to Utah state law, golfers are responsible for damage to homes. Sloppy shots off the tee might just cost players more than a few penalty strokes, as there are several houses within range of the property.
Lodging at Homestead Resort
The resort is truly a unique property, consisting of 19 different buildings with names like Farm House, Milk House, Ranch House, Shaker House and Bunk House that comprise the various lodging options. No two rooms in the resort are quite alike, and most have patios and private entrances. Some of the patios provide impressive vistas of the surrounding mountains, and most of the rooms feature jet-tubs and fireplaces. In total, there are 94 guest rooms, including 27 suites and executive rooms and 23 condos with full kitchens.
Off-course activities at Homestead Resort
Homestead Resort is an ideal family venue. The outdoor pool area is located well away from the lodging buildings, so kids can whoop and holler to their hearts' content without disturbing a soul. While the kiddies cavort and the golfers golf, those guests seeking a more serene and sedate diversion can avail themselves of the on-site Aveda Concept Spa, offering an array of services that you can view at the resort's Web site, www.homesteadresort.com.
Just minutes away from the resort, anglers will find the Provo River rushing majestically down from the surrounding mountains. Here the native whitefish population has been augmented with copious stocks of brown trout (with a few other varieties thrown in for good measure). Would-be fisher-folk who don't travel with their own gear can rent everything they need at Four Seasons Fly Fishers ( www.utahflyfish.com) in Heber City, as well as hire guides that will take you straight to the fish. (Seriously, my guide's very first cast produced a brown trout.)
Also nearby is excellent horseback riding. KB Horses (www.kbhorses.com) offers trail rides, lessons, sleigh rides in winter and wagon rides, including "Chuck Wagon" dinner rides, in the summer.
Homestead Resort dining
My personal four-seasons recreational activity is eating, and at the Homestead Resort, Simon's offers fine dining in a countrified atmosphere, and Fanny's Grill is a great place to grab breakfast before a round of golf, or lunch or casual dinner afterwards.
In Heber City, the highest recommendation is for Tommy's Texas BBQ. Simply put, every single thing on the menu is fantastic, and local say they'd put Tommy's beef brisket up against any in the nation.
Practically next door to Tommy's is the Snake Creek Grill (www.snakecreekgrill.com), which is also a local favorite for "bold, unpretentious cuisine." I found some of the dishes here to be excellent, while others left me wanting something more, or something else. Avoid the fish, which in my experience tends to be overcooked, but the chicken and steaks are solid choices.
More photos
«
»
October 19, 2009
Kiel Christianson has lived, worked, traveled and golfed extensively on three continents. As senior writer and equipment editor for WorldGolf.com, he has reviewed courses, resorts, and golf academies from California to Ireland, including his home course, Lake of the Woods G.C. in Mahomet, Ill. Read his golf blog here and follow him on Twitter @GolfWriterKiel.