Foundry Park Inn & Spa in Athens: Play golf or take your cooler to a Georgia Bulldog football game

By
Tim McDonald
,
Contributor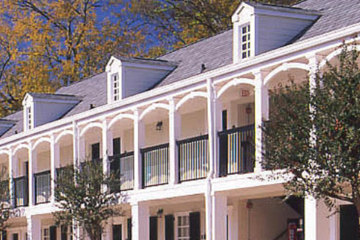 View large image | More photos
Foundry Park was designed as a replica of row houses built in Athens back in the 1820s. (Courtesy of foundryparkinn.com)
ATHENS, Ga. - The Foundry Park Inn & Spa may be a fancy boutique hotel, but they don't neglect the basics here - a cooler in your room to take to nearby Sanford Stadium for the Georgia Bulldog football games. They also have tailgate-to-go menus.
Foundry Park is the first and only boutique property in Athens, on the edge of the active Athens downtown. It was designed as a replica of row houses built in the city back in the 1820s.
But, the best part is the inn's proximity to the energetic music scene Athens is known for, as well as Bulldog football and the good collection of Athens golf courses. In fact, all you have to do is walk a few steps from your door for the music; the Melting Point on the grounds hosts a variety of musical acts - it's a great place to see live music, with its intimate setting and good acoustics.
It's a place to hear terrific local bands as well as nationally recognized acts like Sean Lennon, Leon Russell, the Derek Trucks Band, and Ralph Stanley and the Clinch Mountain Boys. They have different themes for different nights, like Tuesday bluegrass and a Thursday night jazz series. It's a low-key, comfortable place to hear good music, with its 30-foot smoke stack and three levels of seating inside all close to the stage. Its brick and stucco décor recalls the old foundry that used to be on the grounds.
"I come here a lot to hear bluegrass," said Margarite Duncan, who lives outside of Athens. "I can't get enough of it. I don't care much for the other stuff."
The facility itself blends the rustic with the sophisticated. There are 119 rooms and suites, and the décor is understated elegance. There is a conference room, a fitness center, an excellent spa and a fitness center. The inn also has the Hoyt House Restaurant.
The property has four different levels of rooms: deluxe king or double, parlor suite, king suite and the two-bedroom Presidential suite, which is 1,400 square feet; one bedroom has a king canopy bed and the other has two queen, four-poster beds. The suite also has a wet bar, a full-sized refrigerator as well as a private entrance. It's located directly above the spa and adjacent to the outdoor pool.
The rooms are decorated with antique-style wood furniture and with modern amenities, like big work desks with two phones with dual lines. High-speed, wireless Internet is available.
The conference center is 9,000 square feet of space with nine separate rooms holding groups from 10 to more than 400, and it has on-site catering and audiovisual services. The center includes a kitchen and offers themed buffet dinners, like the Southern picnic or New Orleans buffet.
The Hoyt House Restaurant is also on the grounds, a restored, two-story home where Nathan Hoyt, pastor of the Presbyterian Church in Athens, offered guidance for lost souls for 35 years. The structure was originally built in 1829 and has three dining rooms and six fireplaces. It serves mainly Southern food, from stacked fried green tomatoes with pimento cheese to New York strip and she-crab soup.
The Athens Steam Company Pub is also located at The Foundry, and has a vast selection of domestic and import beer, like Big Hoppy Monster, Golden Ale and Rye Pale Ale, as well as the pub's own specialty brew, Red Ale. It also offers pub fare to go with the beer.
The day spa is tucked away in a secluded corner of the inn and offers various sorts of massage - Swedish, hot stone and aromatherapy - and his and hers couples massages are available. One of the more popular massages is the "Two for Tuesdays" special, two 20-minute massages for $60.
For golf, try the nearby University of Georgia Golf Course, The Georgia Club or Jennings Mill Country Club.
More photos
«
»
May 5, 2008
Veteran golf writer Tim McDonald keeps one eye on the PGA Tour and another watching golf vacation hotspots and letting travelers in on the best place to vacation.