Falling Rock Hotel at Nemacolin Woodlands Resort in southwest Pennsylvania: So much to do besides just playing golf

By
Tim McDonald
,
Contributor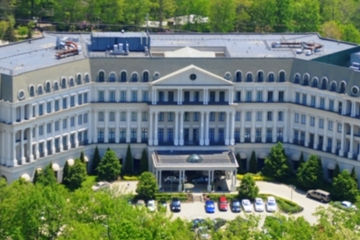 View large image | More photos
Falling Rock is a boutique hotel at the vast Nemacolin Woodlands Resort in Pennsylvania. (Courtesy of nemacolin.com)
FARMINGTON, Pa. -- No golfer ever had more distractions -- or should I say options -- than at the Falling Rock Hotel at the Nemacolin Woodlands Resort.
The resort is in a gorgeous setting, high in the Laurel Highlands, with views that seem to stretch into the farthest reaches of Pennsylvania.
And the Nemacolin Woodlands Resort seems to sit perched on top of all this. It's like a medium-sized city with ritzy amenities and enough activities to keep the family busy for months.
The resort takes up 3,000 mountain acres, sitting atop the Allegheny Mountains of southwest Pennsylvania 70 miles from Pittsburgh. There is a variety of lodging options, including three hotels -- The Lodge, Chateau Lafayette and Falling Rock, a luxury boutique hotel -- plus town homes and private homes. There are 335 total rooms.
They don't have bathtubs here, they have 200-gallon "soaking tubs" and "19-option pillow menus." For those who like complicated showers, they have those, too.
It's close to Ohiopyle State Park and excellent white-water rafting and kayaking.
The resort has two golf courses, a spa with 100 treatments and a full-service salon, fitness center, tennis courts and six swimming pools.
Still, that's not even the half of it. Other activities include, but are not limited to: equestrian trails, a shooting academy, an off-road driving academy, fly-fishing, wine tastings and a special wildlife habitat for black bears, zebra, bison, moose, hyenas, pot-bellied pigs, lions, tigers and wolves, just to name a few critters. Oh yes, there's also a private airstrip.
Still, you've come here to golf, and you'll be impressed.
Mystic Rock is a big, bold golf course on top of a mountain that reflects the hugeness of the resort.
It's one of the top resort golf courses in the world. Mystic Rock is a Pete Dye design -- who else would you hire to build a course like this? -- and took three years to build.
It's a whopping 7,533 yards from the championship tees and has a big, big, big slope rating from back there -- a chest-clutching 153.
Warning: Don't try it from back there. You might as well throw yourself in the lion's den. (They have those here, too, by the way. Along with wolves, pot-bellied pigs and llamas.)
Giant boulders are strewn around the grounds, taking up most of a par 3 in one instance. They're natural to the area, and, naturally, Dye, a landscape master, incorporated them into the design. It also has what the marketing brochures refer to as "Sahara-like" bunkers, and in this case, they aren't exaggerating. You'll need one of the resort's off-road driving lessons to get out of some of this sand.
Don't let all this "big" talk scare you off. This is a playable course if you can hit to the right spots, which is pretty much true of most of Dye's courses. In fact, Golf for Women magazine named it one of the 50 best courses for women in the U.S. If women can handle it, you can, too -- big, strong stud that you are.
The conditioning is excellent, particularly for a public course, from the bentgrass fairways to the bentgrass greens. The fairways have excellent movement, tilting and undulating, and the greens are undulating with good slope and are very fast -- about a 12.5 on the stimpmeter the day I played -- even if the PGA Tour doesn't stop here anymore.
"It's always in good shape," said Troy Allen, a frequent Mystic Rock player. "You think the greens are fast now, you should have seen them when the tour stopped here."
Mystic Rock has a long list of deserved accolades. Among them: Golfweek named it to its "America's 100 best resort golf courses" list, and Conde Nast called it one of the "top 50 golf operations in the world."
The other golf course at Nemacolin Woodlands, The Links, is the resort's original course, and it is totally different from Mystic Rock. It's a par 70 with small, tricky greens and 6,643 yards from the tips.
The Falling Rock Hotel is a tribute to the organic architecture of Frank Lloyd Wright, who was inspired by the views of the highlands.
It's located on the 18th green of Mystic Rock and has the AAA Four Diamond Aqueous Restaurant.
Aqueous is an upscale steakhouse specializing in locally raised beef, lamb, port and chicken. Try the Chef's Experience, a private dining room for up to six guests.
The restaurant has a varied menu: wild mushroom omelets for breakfast, for example. For dinner, might I recommend the Jumbo Lump Crab Cake for starters and the pecan-crusted double-cut lamb chops? Or perhaps the 1 1/2-pound porterhouse for the serious carnivore?
Guests have 24-hour access to butlers, who will do everything from shine your shoes and clean your spikes to draw your curtains in the morning while giving you the day's weather report.
Falling Rock is specifically geared to adults and couples, and it's open to all guests from May to early November.
More photos
«
»
October 21, 2008
Veteran golf writer Tim McDonald keeps one eye on the PGA Tour and another watching golf vacation hotspots and letting travelers in on the best place to vacation.