DoubleTree Golf Resort: Where locals and visitors come together in San Diego

By
Brandon Tucker
,
Managing Editor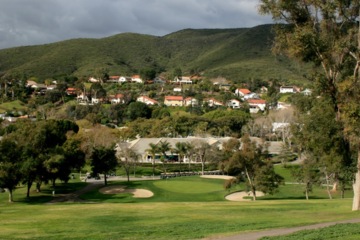 View large image | More photos
DoubleTree Golf Resort lies on rolling, green hills north of San Diego near Rancho Bernardo. (Brandon Tucker/TravelGolf)
SAN DIEGO -- Just north of downtown San Diego, visiting golfers rest their head at DoubleTree Golf Resort.
And, apparently, locals are doing a lot of the golfing there.
DoubleTree Golf Resort is where many area visitors come for work conferences or use as a base for their own golf holiday. This particular property deviates from most DoubleTree brands in that they offer a full-length, 18-hole golf course on site.
Surprisingly enough, only about a quarter of the play on the DoubleTree golf course comes from guests, said the management working in the pro shop.
Visiting golfers to San Diego tend to overlook the course for some of the area's more well known plays. But for a convenient place to stay with a well conditioned, bargain golf course on site, this property is a suitable place to make your base.
So what brings hotel guests to the property?
They're attracted by the DoubleTree brand, part of Hilton Hotels. It starts off with their signature, warm welcoming cookie at check-in. While the resort has a wealth of meeting space, leisure travelers will enjoy the large, modernly equipped guest units. Many of them are golf villas and suites set away from the main building and come with private patios. Beyond golf, there is tennis, a large fitness center and a pleasantly secluded pool in lush, green surroundings. Also on site is a bar and restaurant, while plenty more options are located just on the other side of the highway.
It's a little more understated than some of San Diego's more posh golf resorts, but its prime location and spacious, modern guest rooms are more than suitable for golf groups.
The course at DoubleTree Golf Resort
Classically designed by William F. Bell in the 1960s, the 18-hole golf course plays on the sloping, green hillsides in a traditional parkland setting. Fairways are framed by mature trees and can be narrow in some spots. Some of the longer holes are more wide open, such as the straightaway 12th, which heads gently downhill from an elevated tee box. Longer hitters -- who might feel pinched on some of the course's many par 4s that are less than 350 yards -- have no excuse not to let a big one fly here.
While the course, dating back to the 1960s, is a little short for modern players, it still features plenty of challenge for lower handicappers. Those willing to look past the freeway that runs along one side and the shorter-than-average length will be treated to a solid and scenic test of golf on a well conditioned course.
Arnold Palmer Golf Management has been at the DoubleTree for eight years, ensuring the course's potential is maximized.
"It's a great place for affordability," said Allen Balone, director of golf at DoubleTree Golf Resort. "It's in great condition. The greens are especially in really good shape."
Judging by the morning I spent at the course, DoubleTree's secret of low green fees and good conditions is out among the senior population nearby.
Golf near the DoubleTree Resort
For golfers looking to play a lot of courses while they're in San Diego, DoubleTree Golf Resort puts you close to a lot of good options. Just across the highway is Carmel Mountain Ranch Country Club, a Ronald Fream design that features a little more length and championship challenge than DoubleTree, while also offering some of the area's fastest greens.
Another nearby option is Rancho Bernardo Inn, one of the area's more classically designed golf courses. It opened in the 1960s and was also designed by Bell.
One of the top premium plays is just north, Troon Golf-managed Maderas Golf Club. The Johnny Miller-Robert Muir Graves design opened in 2000 and boasts one of the area's more exclusive rounds open to the public.
For golfers looking to stay out on the coast, DoubleTree has a sister resort, the Hilton La Jolla Torrey Pines. This property is a Four-Diamond resort overlooking the ocean and the 18th at the fabled, coastal muni's South course. You can also book golf packages through the Hilton that offer tee times at each Torrey Pines course.
More photos
«
»
April 4, 2011
Brandon Tucker is the Managing Editor for Golf Advisor. To date, his golf travels have taken him to over two dozen countries and over 500 golf courses worldwide. While he's played some of the most prestigious courses in the world, Tucker's favorite way to play the game is on a great muni in under three hours. Follow Brandon on Twitter at @BrandonTucker and on Instagram at BrandonTuckerGC.