Visitor from England raves about Mike Strantz's Tobacco Road Golf Club in North Carolina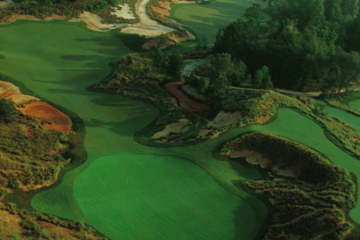 View large image
John Turnbull from England can't get enough of Tobacco Road Golf Club, Mike Strantz's gem in Sanford, N.C. (Courtesy of Tobacco Road G.C.)
I stumbled upon Tobacco Road Golf Club whilst visiting from Durham, England and what a discovery.
I have played golf all over the world and on some great named courses, but this one takes the biscuit; what a shame Mike Strantz didn't live long enough to enjoy and receive the accolades he fully deserves for this masterpiece, which is carved out of a disused sand quarry.
I would concur with a previous reviewer: It is not the hardest course to play, but you have to think your way around it. There is not one good hole on the course. They are all exceptional.
Believe me when I say if I lived in the area I would play this course every day and not become tired of its layout, condition, facilities and staff. My only disappointment was I tried to play it again when I was over last October 2008 and could not get a date to suit my itinerary.
I would not recommend this course to anyone; I want to keep visitors down to a minimum so I can get on.
As Arnold says, "I'll be back."
- John Turnbull,

via WorldGolf.com exit polls
January 12, 2009
Brandon Tucker is the Managing Editor for Golf Advisor. To date, his golf travels have taken him to over two dozen countries and over 500 golf courses worldwide. While he's played some of the most prestigious courses in the world, Tucker's favorite way to play the game is on a great muni in under three hours. Follow Brandon on Twitter at @BrandonTucker and on Instagram at BrandonTuckerGC.