Media overrates Tiger Woods, says reader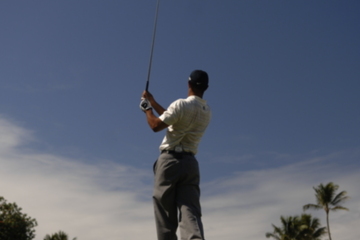 View large image
This WorldGolf.com reader is sick of hearing about Tiger Woods and wants to hear more about the other PGA regulars. (Courtesy PGA of America)
In regard to Spencer Hux's blog "Tiger doesn't have a streak, but is still more interesting"
This stuff reminds me so much of the emptyheaded adoration of the Beatles, Elvis Presley, Frank Sinatra, etc. Can't we have a golf publication that is objective, covers all the participants, and/or does not manipulate results.
In Tiger Wood's favor, he does not consider himself to be challenging Byron Nelson's record. However, if (under all of the convulations provided) he doesn't match the record - he can always claim the:
1) Longest winning streak by an African-American male;
2) Longest winning streak by a male with mixed heritage;
3) Longest winning streak by a Nike representative;
4) Longest winning streak by someone who (I hope) attended a class at Stanford University;
5) Longest winning streak by a person who is married to someone born in Europe;
6) Longest winning streak by anyone who's initials are "TW";
7) Longest winning streak by a media darling;
8) Person who benefited most by a crowd of people moving a "boulder" (although his opponents were denied the same rights.
I could be all wrong (At my age, I was an Arnold Palmer defender and perceived Jack Nicklaus as a pretender). But, it appears that the media has created something that doesn't exist.
Tiger Woods is not better than Braid, Morris (take your pick), Hagen, Hogan, Palmer, Nicklaus, etc. He does have; however, the benefit of the media that can skew perceptions in the hunt for ratings.
None of the professionals on the PGA Tour have come close to accomplishing that which Hogan and his contemporaries did. We get so much spin that I am dizzy.
Can't we, somehow, obtain some sort of coverage of the PGA Tour based upon current accomplishments, that which is going on today - and minimize such things as (never mind, whatever, I can't figure out where journalists gain their spin. Give us real coverage of the 125 professionals who are on the tour - not this hyped-up garbage.
Harold,
Tulsa, Okla.
February 12, 2007