Readers have their say on Tiger Woods-Phil Mickelson 'rivalry'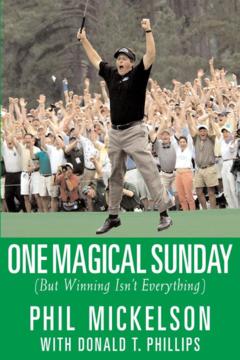 View large image
The front cover of Phil Mickenson's 2005 autobiography "One Magical Sunday: (But Winning Isn't Everything)." ()
WorldGolf.com's "Your Name Here" blog contest has been gaining momentum, with readers writing blogs on topics ranging from whether golf technology is out of control to how best to improve at golf.
Reader CB Maxwell had an entertaining effort titled "Tiger Woods v Phil Mickelson? The jury is now in" that looked at how the "rivalry" between the two great U.S. golfers has evaporated with Tiger's latest run of amazing performances, including wins at the British Open and PGA Championship.
WorldGolf.com readers were quick to chime in with their thoughts on Lefty's fall from grace since his famous collapse at the U.S. Open. Here's what some of them had to say:
Lefty needs to shape up
Phil needs to get in shape. Every golfer that wants to seriously want to challenge needs to get in shape. Mental shape will not be good enough when stamina is needed to close those last 2-3 holes decisive to win championships.
Tiger can do it because he's focused mentally and physically in shape.
It will take many years and many pushups for anyone else to maintain the pace that Tiger has.
Phil's early vacations
I would only add that Phil is notorious for packing up his bags after the PGA championship. He has even (skipped) the TOUR championship the last couple of years. I am sure that the U.S. Open fiasco affected him somewhat but I think the biggest reason of his poor play is his mental fatigue where he his brain has pretty much called it a year by now. If I were Tom Lehman, I would keep him from play at the Ryder Cup until the last day for the single matches.
Phil needs more desire
What's missing with Phil is desire!! The will and hunger (not that kind of hunger for sure). Things have come easy for Phil in golf based on natural ability. Now, there's an obstacle he can't overcome without supreme dedication and his physical condition says he's not committed. His prep for majors is a good effort, but not enough.
Now, it's all about image--golf is not his priority, family is. That sells in corporate America; truth be told, the elite golfers do not make a living winning tournaments, they make their living as corporate pitchmen. Phil's legacy is set.
September 6, 2006