Reader is thankful for Tadd Fujikawa, but already sick of the FedEx Cup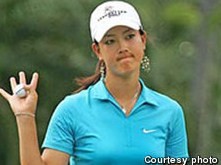 View large image
A WorldGolf.com reader wonders what would have happened if Michelle Wie had played like Tadd Fujikawa recently. (Courtesy photo)
In response to William K. Wolfrum's blog "Golfer Supremacy Rankings: Tadd shows Wie that doing is better than dreaming":
God Bless Tadd Fujikawa! I'm only sorry he didn't get the television time Michelle Wie would have if she had made the cut. If she had, and come close to making the top 20 like Tadd, Golf Channel would have gone commercial free for four hours, even following her to the line at the port-a-john.
Sadly, I tuned in for the fourth round to watch him, and got Learner interviewing some guy named LaBelle. Note and reminder, please pass it along to get Wie back to her teacher she worked with before David Leadbetter screwed her up ... And God Bless Nike too for fueling the fire!
The FedEx Cup: Like a booming voice coming down from Heaven across the valley ... THE FEDEX CUP. I'm tired of hearing about it already. Obviously Tiger Woods and Phil Mickelson figure they will make enough playing part time to win it. I'm sick of it already.
Finally, the ultimate air time waste: The Win Zone. Who gives a damn what crap some computer geek has come up with to show you who might win. It's like giving you the run down before and DURING the actual running of the Kentucky Derby, there is no sense to run the race. Imagine, they are at the quarter mile and the race is stopped, while they show you who runs the next 1/4 mile the best and how the positions will change.
I'm glad for split screen and the mute button when they start all this crap. Which do I vote for to never have to hear about again this year, and it only January?
All three.
The can of worms is now open.
Again, God Bless You Tadd!!!
January 24, 2007