'Old' and 'New,' St. Andrews is something every golfer should experience, reader says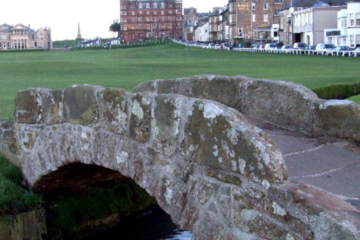 View large image
WorldGolf.com reader says every golfer should play a round at the famed Old Course at St. Andrews, Scotland (Brandon Tucker/GolfPublisher.com)
It's hard to explain, but something comes over you when you stand on the first tee and your heart starts racing. It took me four holes to settle down and start playing golf at the Old Course at St. Andrews. Thanks to Chris, my caddy. Then you can't wait for the road hole.
But my favorite moment came when I played up the 18th and the locals where sitting on the wall behind the green and watching. The clapping as my par putt went in was also very special.
All golfers should go to St. Andrews and experience the challenge and have fun. It was my favorite golf course as well. Don't forget to play the "New" course as well.
I was very lucky to play with two brothers who live in St. Andrews: Arthur and Ronnie. This will always be my second favorite moment. Sorry I didn't get their last name and addresses, but I did get to toast the course and the brothers for a great experience.
July 9, 2007