Reader says South Africa still has its problems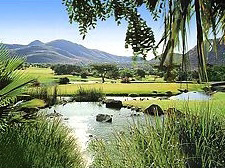 View large image
Beautiful courses like Gary Player Country Club don't capture the true South Africa this WorldGolf.com reader claims. (Courtesy photo)
"I didn't encounter any poor white people there," WorldGolf.com's Brandon Tucker wrote in article "South Africa is the real deal for golf as nation prepares for World Cup in 2010."
Don't be fooled.
I was born and raised in South Africa and lived there until I was 26 years old. I've experienced both the Apartheid and New South Africa eras and both had their ups and downs for both White and Black. I agree that it will take a few generations to establish equality but there are thousands and thousands poor white people in the country.
I just hope that the different races can focus to make the country safer and better to live in in future. My advice, stay out of any downtown city areas at night and always travel in groups. It's a beutiful country with much to enjoy, but right now, I feel a lot safer in the USA.
January 17, 2007