Reader: First day as golf marshal cancelled by 9/11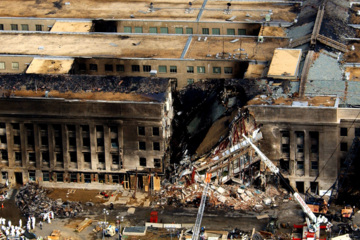 View large image
A GolfBoards.com reader had her day as a marshall for a big PGA event cancelled by 9/11's tragic events. (U.S. Department of Defense)
How many times have you been asked, where were you when the towers got hit?
That morning I was the most excited woman in the world, I was getting dressed in my uniform to be an official marshal for my first time, at the World Golf Championship in St. Louis, Miss., at Bellerive Country Club! I was scheduled to work the afternoon shift, but wanted to get there early and check out the PGA Village and catch some sights of early morning players - including Tiger Woods, Greg Norman and Seve (Ballesteros).
THE WORLD HAD STOPPED. What a mix of emotion. The players that hadn't arrived yet, couldn't get there because of the airlines being stopped. Everyone was disturbed about the NY happenings & couldn't focus. They called the tournament off, I wonder if that's ever happened before! The players that had made it to St Louis early for practice rounds, couldn't get home to be with their family's either.
I hope that the World Golf Championship makes it back to St Louis in my lifetime - I'd love to get a chance to replace the memory of that date with a better one!
--Golf Home Pro
September 12, 2006