Reader thinks racism in golf is overblown by media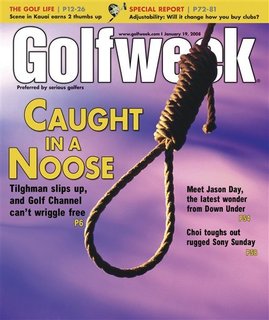 View large image
Reader Lee Hileman writes that he believes the recent racial controversies in golf have been mainly media generated. (.)
I thought your story ["GolfWeek's noose cover the latest attempt to prove golf elitest and racist"] showed just how out of touch that you are with the general public. Most of the media, you included, wants to turn every little sentence into some kind of statement on racism. Does racism exist? Yes, but not everything said is racist.
Many people other than blacks were lynched, and it began eons before slavery of blacks in the United States. Lynching was a common method of justice in the old West. If the person has the talent to play on tour, they play.
You, the media, also use examples of Augusta National Golf Club as proof of racism, but you seem to forget that millions of white people can't become members of Augusta National. There are many minorities that play on the different tours but the media seems to want to play the race card anytime there seems to be more white players than others.
Hey, get a clue, minority means fewer than the majority. This is America and Caucasians are the majority! It seems only logical that more whites will play! I guess that if the blacks don't dominate a sport in numbers then it must be racist.
Most of the general public realizes this, but you seem to have your own agenda and to hell with anything bordering on reasonable.
To quote a famous saying, "Sometimes a cigar is just a cigar!"
Lee Hileman
by e-mail
January 23, 2008