Reader on Paula Creamer, Michelle Wie: "These babes are a good thing for golf"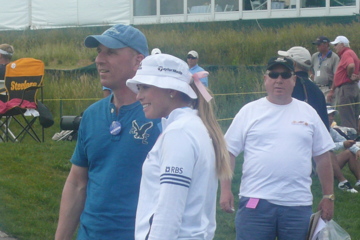 View large image
Reader Charlie marshburn believes attractive young stars like Paula Creamer (above) and Michelle Wie will help the LPGA. (Chris Baldwin/GolfPublisher.com)
In regards to the WorldGolf.com article "Tournament of Champions winner Paula Creamer has no killer instinct & that's ok," I disagree about Morgan Pressel. She is no babe. Seventeen years old, ham-hock arms, a granny fanny and an alligator mouth. Mostly the girls on the LPGA Tour are mature beyond their years and now quite a few are babes.
Paula Creamer looked luscious in that clinging black outfit. Michelle Wie is stunning. Too bad about her. She needs to fire that Leadbetter fraud fast. She was better when her father was her coach. These babes are a good thing for golf.
I have been a fan for 50 years and now I prefer the LPGA and the Champions Tours over the PGA Tour [that's] dominated by that over-hyped egomaniac. Womens sports have improved where mens have backslid some with the criminal element present in the NFL, NBA and big-time college sports. Womens golf and tennis are pristine in comparison and the tennis is loaded with babes too.
Anna Kournikova started it and Maria Sharapova is a high-fashion model playing world-class tennis, winning the U.S. Open in a cutoff cocktail dress worn by Audrey Hepburn in "Breakfast at Tiffany's." Do sports get any better than this?
In 1953, if you had predicted that in 50 years South Korean women would dominate the LPGA and that Russian women would dominate womens tennis you would have been considered a kook. This happened as a direct result of the foreign policy of the USA.
I would like to make a crazy prediction that by 2060 an Iraqi woman will win the U.S. Open in golf and an Afghani woman will win the U.S. Open tennis. If our foreign policy (i.e. freedom democracy and capitalism) is successful, and that is a big IF, I think the above will happen.
Charlie Marshburn
via e-mail

December 17, 2007