Nicklaus Design breathes life into golf course at Ocean Edge Resort and Club on Cape Cod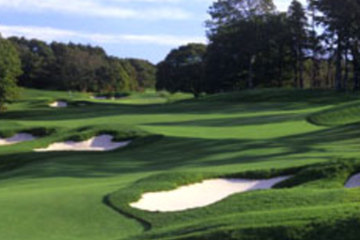 View large image | More photos
The $8 million redesign at Ocean Edge Resort and Club on Cape Cod was money well spent, Jeff Blanchard writes. (Courtesy of oceanedge.com)
With the aging of the game has come the aging of the golf courses across America, and a renovation boom has taken hold.
One of the more recent and noteworthy examples is the new Nicklaus Design at Ocean Edge Resort and Club on Cape Cod in Brewster, Massachusetts, which re-opened in June after two years of construction. In a sentence, what used to be an over-priced round of condo-ball is now an unmitigated pleasure, and rockets Ocean Edge's golf course from the middle to the top tier of the Cape Cod pack (with 50 golf courses including the islands of Nantucket and Martha's Vineyard).
Built in the mid-1980s for a Boston developer who wanted a golf amenity to go with his condominium complex, hotel and conference center, Ocean Edge was the first design off the drawing board of Brian Silva.
An acolyte of the prolific New England designer Geoffrey Cornish, Silva has since gone on to bigger and better things, including Cape Cod National Golf Club across town, an ultra-exclusive members-only club. But first there was Ocean Edge, and the best that can be said of Silva's original design for Ocean Edge is that he did as well as could be expected with what he had - a ribbon of land and ponds around the backside of 1,000 condominiums that are connected by a mile-long sinew of pavement, no ocean view, framed on three sides by a power line right-of-way and two of the town's main roads, Long Pond and the historic Old Kings Highway, now known as Route 6A.
Actually, the pre-history of Ocean Edge is a quintessential American story worth telling here. Cape native Samuel Mayo Nickerson moves to Chicago. Gets rich distilling alcohol. Gets richer founding a bank. Builds a mansion back on Cape Cod, complete with hunting and fishing preserve, a 27,000-acre forest that later becomes part of the state park system. Also builds a little nine-hole down by the water. Mansion burns, mansion gets rebuilt, mansion gets sold. New owner has no use for golf. Another nine-hole takes shape across the street from mansion, Brewster Golf. For a half-century, that's all there is for golf in Brewster, until the 1980s, when Silva is commissioned by Ocean Edge to expand the old nine into a new 18, and in short order is also hired by the town to design a municipal 18, Captains ($650 a year for residents to play free).
For the past 20 years, then, the Ocean Edge golf course served as something of an amenity and something of an albatross, stuck in a golf limbo - not a muni, where for a flat annual fee residents can play free every day, and not a private club, where members pay the bills. Rather, it was a resort course where for two months a year the tourists could pay and play, and the rest of the time it sat all but idle, too expensive for the average hacker, and too public for the country club set.
All that changed with the decision to employ Nicklaus Design, and to spend $8 million on a renovation. Now, guests of Ocean Edge can pay to play, and everyone else can join for $35,000, plus an annual fee that includes an assortment of other goodies, tennis, pools, beach privileges, etc.
To anyone who is curious about the going rate for turning a lame golf course into a world-class gem, apparently it's just about $8 million - money well spent.
What's amazing about the new course is how similar it is from the old at first blush, 7,011 yards from the championship tees, tees and greens mostly in the same places, new Bent grass and a few new bunkers. But between the new routing of holes, improved and expanded tees, reshaped and rebuilt greens, reconstructed bunkers and some subtle new contouring at certain trouble spots along the way, Ocean Edge has a completely new feel.
To the 60-year old businessman John Spadea, one of the original condo owners, the new track has given him a new outlook on life at Ocean Edge.
Year after year, the developer and his agents had been assuring the residents that things would get better, the golf course would be improved, the right balance struck between daily fee players, members and guests of the Ocean Edge conference center.
"We just laughed," Spadea said as he stood on the first tee, a semi-driveable par 4 at 322 yards. "Every time they told us they were going to do something, we just laughed, because they had told us that so many times and nothing was ever done."
"But they finally did it," he said with a wide smile. "They took the quirkiness out of it, and ... well, you'll see. It's a real golf course now."
It's also challenging from start to finish, never monotonous, usually sedate despite the proximity of the housing, and in perfect condition, having just opened in May.
The trick now will be for the club to maintain what it has worked so hard to accomplish. After two months of play, the early verdict is: So far, so good.
- By Jeff Blanchard
More photos
«
»
July 21, 2008