West Virginia's Oakhurst Links a blast from golf's past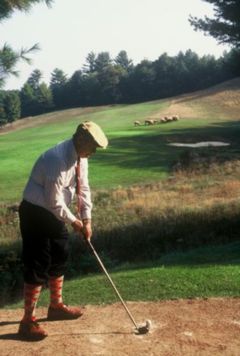 View large image | More photos
The equipment is strictly 19th century at West Virginia's Oakhurst Links. The period dress is optional. (Courtesy Oakhurst Links)
Oakhurst Links is unique, being the first golf course in the United States (founded in 1884). There is no other golf course on the North American continent like it. The Oakhurst experience is unlike any you've had anywhere, no matter where you've played.
Visitors to Oakhurst Links play the course just as golfers did in 1884. Golf at Oakhurst is played with replica 19th-century long-nose, hickory-shafted clubs and "guttie" balls, hit from sand tees. Use of this replica equipment, made in St. Andrews, Scotland, exclusively for Oakhurst Links, is included in your green fee. Adding to the authenticity of your 19th-century experience is the flock of sheep that roams the course, helping keep the fairways "mowed" and presenting unique challenges to the golfer.
To add to the authentic experience on this par-37, 2235-yard nine-hole course, players who adhere to the Royal and Ancient Rules of 1891 and pre-1900 custom carry their clubs (no bags) and walk up and down the spectacular vistas of the West Virginia hills outside White Sulphur Springs. If you really want to be challenged, try playing wearing knickers, dress shirt and a tie as the game was played when Russell Montague, George Grant, Lionel Turrin and Alexander and Roderick MacLeod played in 1884.
Stephen Spring
Baton Rouge, La.
More photos
«
»
June 28, 2007