Molokai's Kaluakoi Golf Course is a diamond in the rough, reader says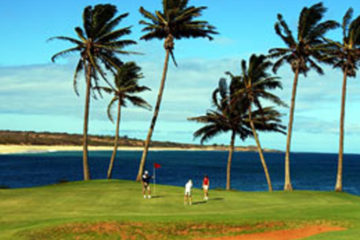 View large image
WorldGolf.com reader says Kaluakoi Golf Course on Molokai, Hawaii, is a diamond in the rough. (Courtesy Molokai Ranch)
My wife and I just returned from our fourth trip to Molokai, Hawaii, in three years. We love the island and the getaway it offers from the rest of Hawaii.
Although Molokai isn't as polished as Maui or Kauai, it still offers plenty of relaxation, and the Kaluakoi Golf Course is just fine. Fifteen holes have ocean views, and the front nine are in stark contrast to the back nine, allowing players of various skill level to show their strength.
This course is a diamond in the rough, and I'm thrilled that it's finally getting some airtime. There's another course in the hills above a coffee plantation that is a real fun play: nine holes of rolling fairways and great views. The people on Molokai are generally friendly; the lack of bulk tourism means some of the folks are a bit narrow-minded, but there are plenty of people on Molokai who welcome outsiders and make it a great place to visit.
August 28, 2007