Readers have their say on Michelle Wie, Karrie Webb and Evian Masters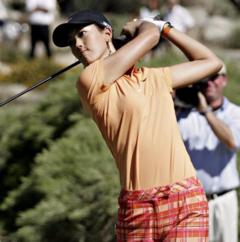 View large image
Michelle Wie will have someone new carrying her bag after caddie Greg Johnston was fired. ()
Following an exciting final round at the Evian Masters, many readers wrote in to make their feelings known about winner Karrie Webb, and runner-up Michelle Wie. Here is a sample of some of what the WorldGolf.com readers had to say:
Webb won, Wie didn't lose
Actually, Karrie Webb, the multiple major, multiple LPGA event winner won the tournament. It isn't all about Michelle Wie.
Wie played very well. She was -3 for the last 10 holes. She hit a 68 for the round, which was her 2nd best round. She hit a 35 on the back nine, which was her 2nd best back 9.
Wie played very well in the 4th round. People like Stacy Solomon who try to belittle her and very ignorant. Wie just met Karrie Webb, who is an experienced performer and just played that bit better.
As a Karrie fan, I'll even admit that Karrie got a bit lucky, but of course, you people don't even get coverage over there until later. Perhaps, you should have actually watched the tournament before commenting.
A beautiful putt dropped for Karrie on the 17th hole, which pretty much gave her the tournament. It was a putt shaped like an L and just got in. Karrie did get the rub of the green on a couple of occasions, but most winners do.
Wie will have her tournament. That won't take any special formula of learning to win. It will simple happen, because she is already doing enough. She just needs that bit of luck, that the winner tends to get in close tournaments. Either that or have a big margin win.
Wait 'til next year?
Looks like Michelle Wie had the fewest birdies and the last bogey in the group on the back nine. Perhaps part of the ongoing pattern of Wie being unable to find a way to win on the final day of a tournament.
Status quo for Michelle. The Wie Warriors will have to wait at least 1 more week for win No. 1. If matters don't upgrade quickly, it may soon become a refrain of "Wait 'til next year.
-- George
Wie judged harder?
It's interesting how Dot Wong chooses her language. Karrie holds of a faltering Wie by shooting 4 under (which by the way Wie shot too), while Laura Davies charges by shooting a 5 under. It's amazing what a difference a stroke makes. One thing I can't argue about is that it is the difference between winning and losing the title.
July 31, 2006