Golfers put too much faith in personal trainers, says reader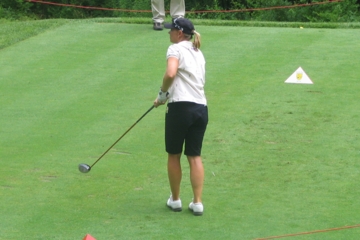 View large image
A WorldGolf.com reader says Annika Sorenstam's personal trainer may hurt her more than help. (Chris Baldwin/GolfPublisher.com)
Another professional golfer injured while actively training with a "personal trainer." Go figure. It amazes me how so many top pro golfers entrust their livelihood to individuals who have obtained their personal training credentials from a paper test (mostly on the Internet)and in some cases have no educational background in assessing a players musculoskeletal deficits.
I watched the Today Show clip of Annika training at her academy. Here is a woman who had a herniated disk in her neck and back standing against a wall and swinging a 10 pound ball on the end of a rope until it smacks the wall, then repeats that in the other direction at warp speed until it strikes the wall again. Anyone with common sense can see that kind of impact and stress to the mid back and cervical spine would definitely be just the thing to send a weakened disc into herniation.
The PGA, LPGA, and Champions tours have physical therapists from a national company who travel with each tour. Most physical therapists have their doctorate degree and at least five years of education focusing on assessment, rehabilitation, and performance training for athletes. Each pro golfer has the opportunity to work with a highly educated and licensed physcial therapist but instead continues to find someone recommended to them who may have never taken an anatomy course.
Many of the "fitness trainers" listed on The Golf Channel website have no education background other than they were lucky enough to become affiliated with a PGA/LPGA Pro. It just amazes me that so many pro golfers are willing to put their health and career on the line by working with individuals who are so poorly qualified to take care of them.
E. Rozina
May 23, 2007