Golfer, 60, gets first hole in one - then gets two more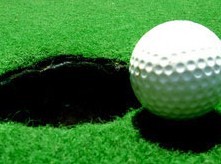 View large image
Reader Robert Best has had a great year in 2006 - he turned 60 and made his first three aces. (Courtesy photo)
In regards to the story "A hole in one can take decades or a day: A couple of Aces tell their tales:"
My wife was at a baby shower so I went out to play a round of golf. I was playing by myself until the 5th hole where I caught up with this nice couple, Jim and Pia Molloy. They asked if I wanted to join them and I did.
When we got to the 16th hole which has an uphill green where you cannot see the back where the hole was located it was my honors to tee off. The hole is 137 yards and the wind was blowing in our faces. I took out my No. 5 Hybrid, which was a fairly strong club to be using, and teed off.
It hit right of the pin and then we could not see it because of the elevation of the green. Then Jim and Pia teed off. When we got to the green there were 2 balls on the green so I thought I had hit it over becuse of the club I had chosen. I grabbed my wedge and putter and started to look for my ball. I could not find it so I looked in the hole and there it was. I could not believe it. My first hole in one. We all celebtated, it was great.
This should be the end of the story but it gets better. Forty-five days later my wife and I went out to play a round of golf and when we got to the same hole I pulled out the same club and hit another hole in one. This time the flag was in front and I saw the ball fall in the hole so now my wife got to see me hit a hole in one.
End of story? No.
On Nov. 7, 2006, my wife and I went out to play the last round of golf for this year and I hit another one on a different hole. As soon as I hit the ball I called to my wife and told her this might be a good one. It hit in front of the green bounced once and rolled into the hole. I am 60 years old and got three hole-in-ones in one year.
UNBELIEVABLE!!!
How many other people have hit three or more hole-in-ones in a season?
December 1, 2006