WorldGolf.com readers are giving the gift of golf course reviews this holiday season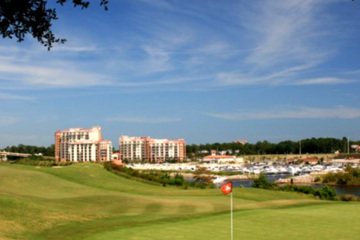 View large image | More photos
WorldGolf.com reader Adam West was soaking in the scenery at the Grande Dunes Resort Course in Myrtle Beach. (Brandon Tucker/WorldGolf.com)
WorldGolf.com readers have been taking time between trips to the shopping mall and clicks around Amazon.com to offer up a few of their favorite golf courses this holiday season, courtesy of WorldGolf.com exit polls, where you can review golf courses yourself from all over the world. By submitting, you could also win a free golf book.
Steven West is still gushing about his 2004 round at the Grande Dunes Resort Course in Myrtle Beach.
"Instant jaw-dropping the second you start to cross the Intracoastal Waterway," West writes. "I found this course to be more playable than described by the 34 acres of lakes, so don't let that hold you back. Well worth playing!"
Timothy Hawkes is checking in from South Africa, where he's raving about Leopard Creek Golf Club in Mpumalanga, west of Johanesburg and bordering the world famous Kruger National Park.
"Top class from top to bottom," he raves. "There is a certain atmosphere about the course, perhaps from the location in the bush, that lends a certain drama to the round. Thirteen, with the view of the Crocodile River is spectacular."
18-handicapper Dennis Collet left several detailed reviews of golf courses in Utah, including a description of the new Ledges Golf Course at the St. George's Golf Club & Spa in southwest Utah.
"The front and back nines of this golf course might as well be on two different planets," he says. "The front nine is a game played on a very well-kept but somewhat 'minimalist' landscape."
But on the back nine, the Ledges "reveals it's true self," he proclaims. "From here, the golf holes soar up and down the edges of the beautiful red, white, pink, orange and black formations on top of the Snow Canyon State Park."
Hawaii's golf courses are a popular Christmas spot for sun-starved northerners, and Adam Crane is praising Ko'olau Golf Club on Oahu.
"A fantastic course, and an even greater challenge," he writes. "Starting out with a tight par-5, there really is no let up from the word 'go'."
"The highlight of the round is the black tee on the 15th (I believe), high above the hole and the home to my favorite personal golfing photo."
[Note to Adam: you can upload your golf photos on WorldGolf.com too on the same page as you write your course review. We'd love to see it!]
There's still time to give a gift to your fellow golfers all over the world, and it just takes a couple minutes. Simply find your golf course here and let us know all about it.
More photos
«
»
December 18, 2008