FedEx Cup an attempt by PGA to control players like Tiger and Mickelson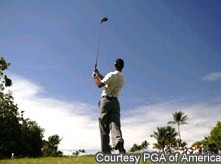 View large image
Reader Monte Shaffer feels that with the FedEx Cup, the PGA is putting pressure on Tiger Woods to play more. (Courtesy PGA of America)
In response to a recent WorldGolf.com blog by William K. Wolfrum:
The FedEx Cup is an attempt by the PGA to control the top players. With the reshuffling of points at the end, they are trying to "FORCE" Tiger Woods and Phil Mickelson to play in the events that lead up to their pinnacle TPC.
Tiger when he created his Target event was forced to pay the PGA a fee of $1 million for having the event; reportedly, Tiger said, 'that will not happen again.' Tiger is not a 'company' man, and the FEC is PGA's attempt to use 'golden handcuffs' to help them feel like they are in control.
Like Jim Furyk, I believe the low point total for the majors is a huge disgrace and embarrassment. Those events should have had 3x the total points, not a few hundred points more.
The majors define golf, the PGA is trying to control golf, and the result is the pathetic FEC.
When an organization searches for the almighty dollar myopia sets in and the slippery slope toward mediocrity occurs.
January 12, 2007