Headed to Mexico? Don't miss Greg Norman's El Camaleon Golf Course, reader says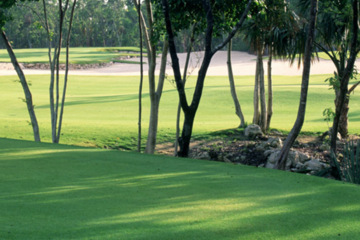 View large image | More photos
El Camaleon's conditions were excellent, the fairways were perfect and the greens were pristine, Elliot DeBear writes. (Courtesy of mayakobagolfclassic.com)
I just returned from Mexico where I stayed at the Fairmont Mayakoba, 45 minutes south of Cancun. It's a beautiful resort with fantastic food and perfect weather if you are looking for a terrific vacation in Mexico.
I played El Camaleon Golf Course, a Greg Norman-signature-design course that has so far hosted two PGA Tour events. While I'm not usually a big fan of Norman-designed courses, this was a good resort course. The conditions were excellent, the fairways were perfect and the greens were pristine. The traps were consistent throughout.
The golf course reads 7,024 yards from the tips with a 71.1/131 slope rating, 6,562 from the whites. Like other Norman courses, this one had, for the most part, wide fairways and huge greens. You could find yourself with 80-foot putts on a number of occasions.
The course meanders through thick vegetation and is bordered on a number of holes with hotel suites. Two holes, both par 3s, are right on the ocean providing beautiful views. There are six par 4s over 425 yards. This is good, because with the wind, you are hitting long approach shots to greens. The four par 5s averaged just over 540 yards.
If you are staying at any Mayakoba resort, the 18-hole rate is $181 per round with carts a whopping $259 if you are staying at another hotel. There is a Mayakoba twilight rate of $77 that works versus the $130 you are looking at from another facility. Many players choose to play nine holes at around 2 p.m. when the weather is nice and the shadows start to fall across the course.
The staff, outside of the pro shop, was terrific and helpful. The pro shop staff needs to get its act together and do a better job of coordinating with the hotel front desks. They often have conflicting information regarding rates, especially for junior players under 17.
All in all, it was a good week of golf and sun. If you are planning to go, there are seven other signature courses in the area (including Playacar, a von Hagge track, and Playa Paraiso by P.B. Dye) and two more being built. Maya Riviera is the new in place in Mexico and getting built up fast.
The nice part is that there are no high rises to speak of. Most of the resorts are set back from the road with large areas of jungle vegitation so you don't feel like its Cancun or Alcapulco. There are Mayan ruins to visit in Tulum, adventure tours and nature parks, and the town, Playa del Carmen, is terrific to visit at night with many good restaurants and shops. It's very clean and secure.
If you are into Mexico, this is definitely the place to check out.
- Elliot DeBear
by e-mail
More photos
«
»
January 14, 2009