Reader agrees: Desert golf courses in American Southwest slighted by Top 100 rankings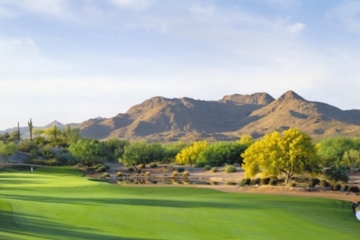 View large image | More photos
WorldGolf.com reader Tom Karalis believes We-Ko-Pa is deserving of a Top 100 ranking from Golf Magazine. (Courtesy of We-Ko-Pa)
In response to Brandon Tucker's blog: New Golf Magazine Top 100 ranking slights American Southwest desert courses in Arizona, New Mexico and Nevada.
Thanks for the article, Brandon.
I agree that it is a little far fetched that Arizona, New Mexico and Nevada only have a couple of Top 100 courses in the Golf Magazine list. I have played both We-Ko-Pa Golf Club courses in Scottsdale many times, and let me tell you, it compares with almost any of the Top 100 except the obvious few (Augusta National, Pine Valley, etc).
Also, Paa-Ko Ridge Golf Club and Black Mesa Golf Club (both in New Mexico) are no slouches either.
Then add Wolf Creek Golf Club in Mesquite, Nev., and The Wolf at Las Vegas Paiute Resort, an unbelievable track that measures more than 7,500 yards in the Vegas desert.
Hmmm, maybe no freebies were offered to the writers ... :)

- Tom Karalis, via blog post
More photos
«
»
October 15, 2009
Brandon Tucker is the Managing Editor for Golf Advisor. To date, his golf travels have taken him to over two dozen countries and over 500 golf courses worldwide. While he's played some of the most prestigious courses in the world, Tucker's favorite way to play the game is on a great muni in under three hours. Follow Brandon on Twitter at @BrandonTucker and on Instagram at BrandonTuckerGC.