WorldGolf.com reader spills the beans on resort golf in the Dominican Republic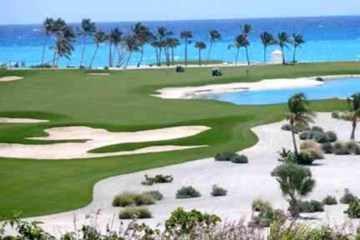 View large image | More photos
WorldGolf.com reader Chris Blackham found Cap Cana's Punta Espada course to be the best round of his Dominican Republic golf vacation. (Katharine Dyson/WorldGolf.com)
The Dominican Republic is one of the world's great emerging island golf destinations. What began with Pete Dye's "Casa de Campo" years ago has now boomed into a Caribbean island rife with world-class golf resorts.
Fresh off a trip there, scratch golfer and WorldGolf.com reader Chris Blackham has submitted a trio of golf course reviews via WorldGolf.com's Exit Polls.
His many four- and five-star scores show he was pleased with the golf, to say the least. He had a little constructive criticism too.
At Cap Cana Resort's Punta Espada, Blackham was all smiles.
"Phenomenal!" he wrote. "Great condition, challenging greens, all around great golf. I would recommend this to anyone who likes serious golf ... Well worth the money paid."
Unfortunately, the caddies were not as polished: "My only problem was the caddies seemed to have more trouble reading the greens than I did."
At the Punta Cana Resort Club's La Cana course, Blackham found good conditions and views, but said some details were missing.
"If you prefer pretty views over good golf, this is a great course, but I wouldn't recommend it due to poor green condition and under construction practice facilities."
At Roco Ki's Faldo Legacy course, Blackham was more impressed with the caddies than at Punta Espada, though some unfinished facilities left a little to be desired.
"The course was in great condition, the design was fantastic and the caddies were very knowledgeable," he wrote. "But paths were not all complete so it sometimes left long walks between holes. There is no driving range, and, when I asked, they said they were still debating whether or not to even include one in what is supposed to be a 'golf resort.' I would definitely recommend the course though."
Special thanks to Chris for leaving such great feedback on what sounds like a wonderful golf vacation. Don't forget to upload a photo or two if you get the chance.
You can tell the golf world about your latest exotic golf strip - or simply your local muni. To begin, find your course here.
More photos
«
»
April 23, 2009
Brandon Tucker is the Managing Editor for Golf Advisor. To date, his golf travels have taken him to over two dozen countries and over 500 golf courses worldwide. While he's played some of the most prestigious courses in the world, Tucker's favorite way to play the game is on a great muni in under three hours. Follow Brandon on Twitter at @BrandonTucker and on Instagram at BrandonTuckerGC.