The importance of a smooth golf swing

By Karl Fischer,
Contributor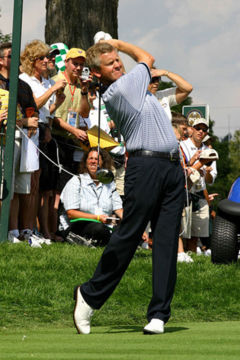 View large image
Swing through the golf ball in one smooth motion, applying force late. (Courtesy photo)
Newton's laws of motion, if not already, should become a basic part of your golf game very soon.
Let the pendulum that swings so regularly and predictably in Big Ben serve as a model golf action.
Don't hit the ball. Swing the club head smoothly through the ball with some force late. Don't fire the muscles until your lever assembly -- shoulders, arms, hands –- drop below your armpits. Then hit through the ball to the pin.
February 10, 2003
Karl Fischer has spent some 35-plus plus years teaching golf nationally and internationally earning the title of "IGAD-Doctorate," "CIMTP-Certified International Master Teaching Professional," "CMCB-Certified Master Club-Builder" and "CGC-Certified Golf Clinician." He has written six golf books, thousands of editorials, tips, "Bullet-Proof Drills" and much more. He can be reached at KF@555golf.com or by phone at (817) 673-8888.