Men's golf shoes, Part I: In step with comfort, style

By Mark Marney,
The Golf Warehouse (tgw.com)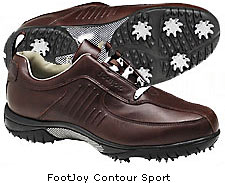 Recently, I met a fellow who nicknamed his golf shoes (drum roll) "medicine."
At first, I was taken aback. Upon second thought, however, I realized he was strikingly accurate.
Comfort of the feet is paramount when you're walking 18 holes, a.k.a. roughly five miles over varying terrain.
There are several golf shoes on the market that combine comfort and style to make rounds more pleasurable and promote the health of your feet. One thing to remember is that, like good medicine, the best shoes also tend to cost a bit more than your average pair.
Manufacturers have the following to say about their offerings
Adidas Clima Cool - Advanced technology promotes internal climate control via a series of ducts, vents and perforations. The highly breathable, moisture-wicking linings enhance airflow while reducing frictional heat. With every step, cool air flows in. The uppers, forefoot and midfoot are ventilated and the tongue is mesh.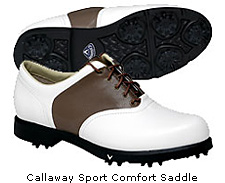 Callaway Sport Comfort Saddle - Its exclusive XWT adjustable-width-footbed technology allows golfers the ability to customize fit. For example, go from medium to wide by simply removing the unique XWT forefoot layer from the insole. In addition, golfers adjust the fit between the left and right shoe depending upon the length and fit difference of the feet.
ECCO Classic Saddle GTX - The Danish footwear giant makes many of the world' s most comfortable street shoes and loyalists are crazy for the ultra-everything golf collection. To wit: A padded heel and tongue; uppers constructed of full-grain, long-lasting leather for a perfect, snug fit; the sturdy and flexible PU midsole with arch support is stabilizing under all conditions; the sole has a unique, shock-absorbing effect. The GORE-TEX membrane optimizes waterproof protection.
FootJoy Contour Sport - Features slip-last construction -- which is often found in flexible running shoes -- that allows all components to be built to more closely match the shape of the foot, thereby increasing comfort and flexibility. The contour last promotes a full-rounded toe character, and is full across the forefoot, standard instep and heel. Ultra flexible Duramax rubber outsoles, a proprietary compound to FootJoy, deliver excellent traction and durability.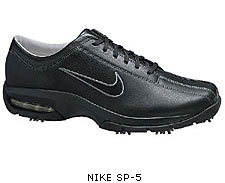 NIKE SP-5 - Contemporary styling aside, Air Max cushioning and visible large-volume heel Air-Sole unit provides exceptional comfort. The newly designed T@C (traction at contact) rubber outsole technology promotes maximum stability, enhanced flexibility and significantly reduced weight. The supple full-grain leather with WaterShield membrane keeps feet dry throughout the round.
In upcoming weeks, Mark Marney will report "Part II: Women's Golf Shoes." He is CEO of The Golf Warehouse at tgw.com, the world's largest golf e-tailer. His columns highlighting emerging trends and golf products appear monthly.
Mark Marney is CEO of The Golf Warehouse at tgw.com, the world's largest golf e-tailer. His columns appear monthly at travelgolf.com. He reports on golf products, emerging trends, and he let's you know what's hot and what's not.