19th Annual Ann Liguori Foundation Charity Golf Classic Honors Jim Donaghy, Chairman, Structure Tone Organization
Staff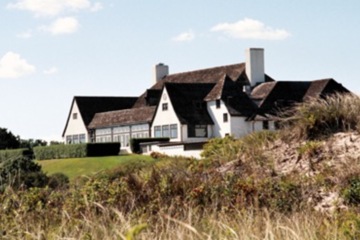 View large image
The Maidstone Club, host of the 19th Annual Ann Liguori Foundation Charity Golf Classic. (Courtesy photo)
(Westhampton, New York 'Äď June 7, 2017) -- The 19th Annual Ann Liguori Foundation Charity Golf Classic, benefiting cancer research and prevention, is pleased to announce that this year'Äôs honoree is Jim Donaghy, Chairman, Structure Tone Organization. The tournament is Thursday, June 8, at the Maidstone Club in East Hampton, N.Y.
Each year the Ann Liguori Foundation honors a Business Man or Woman who best exemplifies the ideals of the Foundation's mission: helping those less fortunate; providing generosity, leadership and support for organizations that focus on cancer research and prevention and to a variety of other not-for-profits.
Structure Tone is a leading global construction management company and general contracting service provider with offices located in the U.S., UK and Ireland. Founded in 1971, the company has grown to over 1800 employees and more than $3.5 billion in annual construction volume.
'ÄúGetting involved in the Ann Liguori Foundation Charity Golf Classic, raising money and awareness for cancer research and prevention, is an opportunity to make sure we are taking care of those in need,'ÄĚ says Jim Doneghy. 'ÄúThere are so many distractions in life, especially when you live in the New York metro area, but to me, it'Äôs important not to forget what matters most. Cancer is such a terrible health crisis, affecting our entire population. It'Äôs important to take care of people who need our help. We can never stop working together to find a cure.'ÄĚ
'ÄúIt'Äôs very nice to get recognized by people I hold in high regard, but to me, it'Äôs more about supporting the cause, than it is about me. I feel very fortunate that I'Äôm in the position to make a difference.'ÄĚ
Ann Liguori, renown sports talk show host/interviewer/author and golf correspondent for WFAN Radio and CBS Sports Radio Network, hosts the popular charity event every year on the East End of Long Island. Sports Innerview with Ann Liguori is heard Saturday mornings 9-10 AM EST on NPR'Äôs WPPB 88.3 FM and on-line at peconicpublicbroadcasting.org. Ann is the author of 'ÄėA Passion for Golf, Celebrity Musings About the Game.'Äô
The annual charity tournament, played each year at a prestigious golf course in The Hamptons, raises money and awareness for not-for-profits that focus on cancer prevention, care and research, including St. Jude Children's Research Hospital, KIDS NEED MORE, a camp on Shelter Island for children with cancer and their siblings, and a variety of organizations that support this cause. ALF also works to educate young people about the importance of good nutrition and regular exercise.
Another program the Ann Liguori Foundation supports is the ALF Sports Media Scholarship, part of NYWICI, assisting young women hoping to pursue a career in sports media and the Jim Liguori Memorial Scholarship at the University of South Florida to help students in need.
Each golfer will receive a goodie bag with a variety of premium-items upon check-in. Prior to the shot gun start at 1pm, brunch will be served. After the tournament, golfers will enjoy cocktails and an award's dinner in Maidstone's majestic clubhouse. A silent and live auction will feature opportunities to play some of the most prestigious golf clubs/resorts around the world.
Sponsors include American Building Maintenance (ABM), Eyeking LLC / Under Armour Eyewear, Platinum Maintenance, Structure Tone, TaylorMade and Tharanco Lifestyles/Greg Norman Collection.
Donors include Bermuda Tourism, Bradford Portraits, Casa de Campo Resort & Villas, COOLA Suncare, Dune Jewelry, Imperial Headwear, JoFit Apparel, Marc Joseph New York Shoes, Maui Jim, NoNatz Bug Spray, North & West Coast Links, OGIO Golf Bags, Revo, RMS Golf Gloves, SCNS Sports Food, Shoe Tips (The Last Thought Before Your Shot), Tour Edge Golf, VPAR and Zero Friction.
# # #
For more information call the Ann Liguori Foundation at 631-801-2233
For more information on Ann Liguori and the Ann Liguori Foundation, visit: www.annliguori.com.
Follow Ann on Twitter: @annliguori
Like Ann on Facebook: www.facebook.com/annliguori
Media Contact:
Carole Imperiale, Publicist
908-380-0015
Carole.Imperiale@gmail.com
June 7, 2017