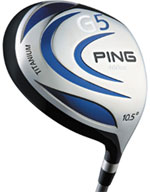 Do you read WorldGolf.com? Interested in playing a brand new set of Ping golf clubs?
The WorldGolf.com team would like to know more about our readers and their interests. And we're offering a set of Ping clubs and bag to sweeten the deal.
By filling out our brief readership survey, you will automatically be entered into a drawing for a free set of Ping G5 clubs, including the G5 Driver with internal weighting system, fairway woods, irons, a putter and a T9.5 Consumer Bag.
So if you're looking to spend the rest of 2007 playing with a brand-new, cutting-edge set of golf clubs, click here to fill out the survey and officially enter the drawing.
Sincerely,

Will McIntosh, CEO
WorldGolf.com LLC
Eligibility Requirements: To be eligible to participate, Give-Away entrants must be age 21 or older that have a valid mailing address to which prizes can be delivered. Employees of WorldGolf.com LLC, and employees' immediate families are not eligible to participate in the Give-Away.
How to Enter: To enter, you must complete the WorldGolf.com 2007 Customer Survey. Limit of one entry per person. Submission of invalid or incorrect information, including e-mail addresses, shall make an entry void. WorldGolf.com is not responsible for incomplete, inaccurate, lost, or otherwise deficient or unusable entries. Click here for complete rules on the drawing.