Using 3D motion and biomechanics, Zenolink is a secret weapon to traditional golf instruction

By
Brandon Tucker
,
Managing Editor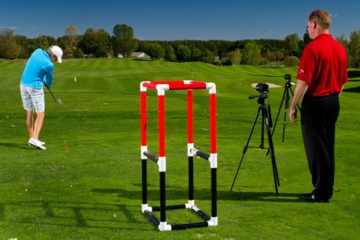 View large image | More photos
Brad Dean, the Director of Instruction at Crystal Mountain Resort, has used Zenolink for three years. (Brian Walters/Crystal Mountain Resort)
THOMPSONVILLE, Mich. -- In golf instruction, there are quick fixes and swing overhauls.
The first usually doesn't stick for long, the latter can be grueling.
Zenolink is helping to make the golf swing make sense faster than ever before with traditional teaching methods.
A complement to traditional golf instruction that uses 3D motion and biomechanics, Zenolink is about the furthest thing from a "quick fix" that you might read in a golf magazine or receive from someone on the driving range. But long term, instructors are finding it's the fastest way to make real, breakthrough swing changes with their students.
Chris Welch, a biomedical and biomechanical engineer, created the system, which is used in a variety of sports, including baseball, lacrosse and diving. Since Welch brought the system to golf, teachers such as David Leadbetter, Jim McLean and Sean Foley have used it with their students.
While Zenolink has become a must for competitive players, it serves a purpose for the casual adult player as well.
"For the average golfer, reducing the risk of injury goes hand in hand with the ability to play more consistently," Welch said. "The healthier you are, the more efficient you'll be and the better you're going to play."
Brad Dean has been Director of Instruction at Crystal Mountain Resort in northern Michigan for 17 years. Three years ago teaching colleague Adam Schriber, who teaches Anthony Kim and Morgan Pressel, among others, introduced him to Zenolink. Dean has a stable of junior students at Crystal Mountain with scholarship and professional dreams, and he's found Zenolink is helping make them better -- faster.
"The golf instructor focuses on angle and plane; there's no set way we're taught how to teach how the body works," Dean said. "Zenolink gives us the ability to change how the body works and integrate swing mechanics with body motion."
But it doesn't focus on what Dean calls the "superficial stuff," the plane, path and clubface, which is what golf instruction focuses on.
"What I've come to find out is that sequencing of the body parts -- the hips, shoulders and arms -- and the club shaft are the most important things we have going in the golf swing," Dean said. "If we can combine that with the superficial stuff, it's the best thing that can happen for the student because they get so much better, so much faster."
How a Zenolink lesson works
Under the supervision of Dean at Crystal Mountain, I hit just two balls at my Zenolink session, both of which were videotaped from different angles and emailed to New York.
The following day, I received a video analysis from Welch, and my swing was broken down into numbers, including hip speed, arm speed, club release speed and some others. My numbers were compared to "Normal," which are numbers that top tour players reach in their swing. Welch uses these numbers and the video analysis to show you how to get your body movement closer to "Normal," which will create a more efficient, stronger swing.
At this point, you may wonder how anyone is expecting you to have the same swing as Rory McIlroy or some limber hotshot. Welch says the swing can still be personal despite a system that measures you up to others.
"There are certain things the body has to do to swing the club," Welch said. "How you do it, how you look when you do it, that's your deal. We work within the context to perform to the best of your ability."
Once you've received the video analysis, the next step is your personalized drills. Welch assigns a handful of them that will help train muscle memory. He also adds some exercises to make your body stronger where it's weak.
The drills and exercises are aimed at getting you closer to 100 percent maximization from your body in your golf swing. Once you do them for a while and incorporate them with some time at the range, Dean or whoever the on-site instructor is (you can find Zenolink all over the country and even a few places internationally) then fine-tunes any other traditional golf issues such as grip or alignment.
An added benefit of Zenolink is that it stresses just how athletic you need to be in a golf swing. In the weeks after going through the system, I found myself exercising and stretching much more -- even more than I was out hitting balls working on my new swing.
Personally, the system has been able to help me make a grip change that I've wanted to make for years, a much weaker left hand, but only until Zenolink did I realize how differently I needed to move my body to make it work.
Where to find Zenolink
Zenolink is offered throughout the U.S. and internationally, including Michigan's Crystal Mountain Resort, and most recently Boyne Highlands Resort. It's also offered in Orlando, Austin and Pacific Grove, Calif., among other spots, including many in metropolitan Toronto and Australia. For a complete list, visit www.Zenolink.com.
More photos
«
»
October 18, 2010
Brandon Tucker is the Managing Editor for Golf Advisor. To date, his golf travels have taken him to over two dozen countries and over 500 golf courses worldwide. While he's played some of the most prestigious courses in the world, Tucker's favorite way to play the game is on a great muni in under three hours. Follow Brandon on Twitter at @BrandonTucker and on Instagram at BrandonTuckerGC.