The truth about a straight left arm

By
Chuck Evans
,
Special Contributor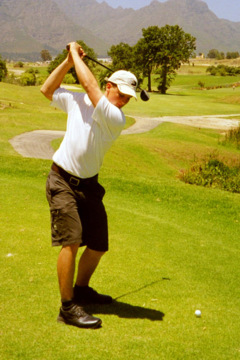 View large image
keeping your lead arm straight is an important, but often misunderstood part of a good golf swing. (Courtesy Andi Brenner)
One of the "absolutes" in golf - and what is taught - is a straight left arm (Or right arm if you are a lefty like Phil Mickelson). First let's define what a straight left arm is and isn't.
For the majority of people a left arm that hangs downward has an elbow joint. This joint has between three and five degrees of bend in it. This is what a straight left arm is.
Stretching - hyper extending - and locking the elbow is not a straight left arm! All the golfer has done successfully is to increase the radius from the left shoulder to the ground. This is a major cause of "fat shots!" This is what a straight left arm is not!
Harry Vardon won the British Open six times playing with a "bent" left arm.
Calvin Peete won the Players Championship and is the most accurate driver of the golf ball ever! In 26-plus years of playing professional golf he hit one ball out of bounds!
Calvin's left arm was severely bent as a result of an accident as a young child which shattered his left elbow.
Surgeons repaired the elbow, but it remained permanently fused so that Calvin could never fully straighten his arm.
Calvin won 11 times on Tour in a five-year span - 12 events total - plus his Players Championship victory. He led the Tour in driving accuracy for 10 straight years and led the Tour in "greens in regulation" three times.
Another player that had huge success on the PGA Tour is Curtis Strange. Curtis won 17 times on Tour including winning the U.S. Open back to back in 1988 and 1989. Others include Jay Haas and Kenny Perry.
Swing "Gurus" referred to Curtis' left arm as "soft."
Think of it this way, if you were to swing a piece of rope is it "locked" and taunt in the backstroke? Of course not! But what happens when you swing it to the ball - it becomes a straight line!
Now I'm not advocating that you intentionally bend your left arm but I am saying not to lock it thinking that is what straight is. The arms must feel like dangling ropes - loose. This will give you more power with less effort.
Remember, whatever angle your left arm hangs - loosely - just maintain it during the backstroke and let it come out by itself in the downstroke.
September 8, 2006
Chuck Evans, G.S.E.D., a Golf Magazine Top 100 Teacher, is one of only 31 golf instructors worldwide designated to hold a doctorate in golf stroke engineering. He is executive director of instruction for the Medicus Golf Institute and has served as director of schools for the PGA Tour Golf Academy, and as director of instruction for the United States Golf Institute. He is also the author of "How To Build Your Golf Swing."