Control your wrist, and control your slice

By
Chuck Evans
,
Special Contributor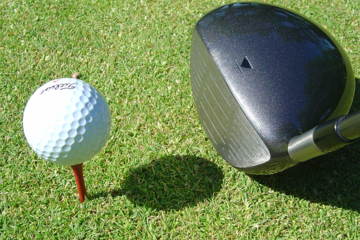 View large image
A slice is caused by one thing, the angle of the club when it makes contact with the golf ball. (.)
You're standing on the tee with water right and think, boy I don't want to hit it right. What usually happens next? The ball doesn't go into the water because it wants to. It go in the water because it has to!
You did everything absolutely perfect to produce this slice and send your golf ball to a watery grave. So how do you fix this abomination of a shot? First, you will need to know what a slice is and what some of its causes are.
A slice can start anywhere but then curves back to the right - for a right-handed player. The amount of this curvature can be small or great depending on the clubface angle when the ball leaves the clubface.
If you are slicing here's a quick check list to narrow down why.
1. Ball location - having the ball too far back in the stance will not allow the clubface to close properly. A player's hand spped also affects ball location. Fast hands need to play the ball back and slow hands more forward.
2. Hinge action (the control of the clubface transmitted through the left hand) - Faulty hinge action can lead to slices, hooks, pushes, and fades. But properly educated hands can even compensate for off plane motions.
3. Right arm action - Not straightening the right arm through impact allows the clubface to remain open. These three are the basic reasons for slices, but there could be more depending on the player.
Some misnomers about slices
1. Clubhead path controls initial ball direction.
This is one of the worst pieces of advice ever given. Why? The ball will always leave the clubface, at a right angle to the clubface, regardless of the path the club is swung on unless there is enough time and force to alter what's known as the Venturi Effect.
2. A strong grip eliminates a slice.
Yeah right. We've all heard this and I bet you've even tried it. You probably took a lesson - or two - from the local pro and have spent a few dollars (or even a few hundred) to get rid of that nasty slice.
Heck, you might have even tried to fix that nasty thing yourself! But you quickly realized after hundreds of golf balls...it did not work. You heard me. It didn't work, never has, and never will.
If you want to eliminate a slice, or a hook, you MUST learn how to control the clubface through the proper use of the left wrist. That's all there is to it.
June 22, 2007
Chuck Evans, G.S.E.D., a Golf Magazine Top 100 Teacher, is one of only 31 golf instructors worldwide designated to hold a doctorate in golf stroke engineering. He is executive director of instruction for the Medicus Golf Institute and has served as director of schools for the PGA Tour Golf Academy, and as director of instruction for the United States Golf Institute. He is also the author of "How To Build Your Golf Swing."