Want To hit the ball farther?

By
Chuck Evans
,
Special Contributor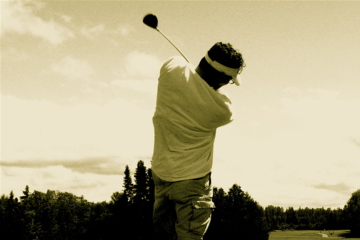 View large image
By swinging a weighted club, you'll add distance to your shots in no time. (Courtesy photo)
Want to hit the ball longer? Of course you do! No one wants to hit it shorter!
In all of my years of teaching I have never had someone tell me they wanted to hit it shorter. But, virtually everyone has told me they wanted to add distance.
In an article earlier I mentioned that there are keys to power and accuracy and today I'll go into more about adding power.
You see, it doesn't do any good to hit it father if you can't control the direction. If you are hitting your tee shots into the right rough and then you add 30 yards to your tee shot then all you get is farther into the woods!
Power is attained through controlling the golf club through the "Three Stations."
1. Address
2. Top
3. Finish
As players we must control the golf club through these three stations.
A lot of players think that in order to hit it father they have to take it back farther. While this is true, to a certain extent, if the player loses their "alignments" and structure by taking it too far back then that player has defeated the purpose of "loading" the golf club for power.
Power is generated by how fast the arms swing and striking the golf ball on the "sweetspot" of the club. There is no Power generated by turning the hips! As an example, how you ever seen anyone sit in a chair and hit a golf ball? These players routinely hit it over 250 yards! How much "lower" body action is going on there.
The faster you swing your arms - in rhythm - the faster the clubhead speed. You can swing as fast as you'd like as long as you keep in balance.
The body provides balance and support, the hands give the shot direction, and the arms provide the speed.
So while the proponents of using the "big muscles" can be correct in the directional aspect of the golf stroke - they are all short hitters!
To increase your arm speed, swing a weighted club. After a few repetitions using this weighted club then pick up your driver and hit golf balls. You will notice an immediate increase in speed!
If you do this religiously you will build up those speed muscles and add distance to your shots.
October 25, 2006
Chuck Evans, G.S.E.D., a Golf Magazine Top 100 Teacher, is one of only 31 golf instructors worldwide designated to hold a doctorate in golf stroke engineering. He is executive director of instruction for the Medicus Golf Institute and has served as director of schools for the PGA Tour Golf Academy, and as director of instruction for the United States Golf Institute. He is also the author of "How To Build Your Golf Swing."