Yes! Golf's Madison mallet putter: Ugly duckling is a swan on the greens

By
Kiel Christianson
,
Senior Writer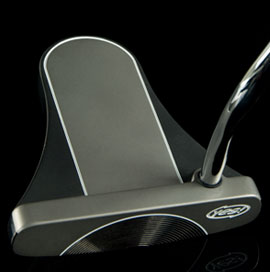 View large image | More photos
The face of the new Madison putter by Yes! Golf features the company's patented C-Groove face. (Courtesy of Yes! Golf)
There are three types of golfers in the world when it comes to new equipment.
Type One golfers refuse to try any new sticks that look funny or draw quizzical glances from partners or competitors.
Type Two golfers actually seek out bizarre, er, artistic, clubs: branding-iron putters, square-headed drivers, irons with nubs and bumps and cavities.
Type Three golfers don't give a rip, as long as it works.
I like to think I'm a Type Three, but at heart, I have a soft spot for the ugly duckling that turns out to be a swan.
The explosion in popularity of mallet putters - even on the PGA Tour - makes me think there are more of us Type Two and Type Three golfers out there than was once imagined.
And Yes! Golf's new Madison model is one of the latest examples of the growing "whatever works" attitude.
How the Yes! Golf's Madison putter plays
When I first drew the Madison (MSRP $190) from its magnet-fastened leather headcover, I must admit that my first thought was, "This can't be legal." You see, according to USGA regulations, a putter head cannot be longer front to back than it is heel to toe.
A quick measurement, however, revealed that the Madison is, of course, conforming to the rules of the sport. Nevertheless, when you pull the Madison out for the first time on the green, your playing partners are likely to say the same thing mine did: "That thing is an aircraft carrier!"
And then when you stroke the first putt, and they hear the distinct "clink" produced by the high MOI, hollow-body putter head, they're likely to comment on that, too.
In the end, though, when you run in a few long, seeing-eye par and birdie putts, they start to wonder exactly what it is... and if they could, maybe, give it a try.
The Madison, like all Yes! putters, features C-Groove technology, which is a groove pattern on the face that promises to get the ball rolling forward faster, without hopping or skidding. The rest of the technology behind this rather ungainly flat-stick is similar to a metal wood. The enlarged mallet incorporates a hollow head with extreme perimeter weighting to create the highest MOI in the YES! putter line.
The head is made of 304 stainless steel and has a titanium-carbon finish with a head weight of 360 grams. The putter has a double bend shaft and is face balanced. The alignment lines on the top seam of the face along with a ball-width stripe on the top of the putter form a T-square for pretty reliable alignment.
The verdict on the Yes! Golf Madison putter
Prior to testing the Madison, I thought I had found a putter that would last me for many years. Yet on the very first stroke with the Madison, I ran in a 13-foot par putt, and began to wonder. Despite a distinct, hollow, tinky sort of sound, the Madison is extremely stable and solid at impact, and no matter how many different kinds of greens I putt on, distance never seems to be an issue. I just "feel" how long the stroke should be.
The extremely long alignment aid behind the putter face is exceptionally effective at ensuring a square set-up, and the weighting promotes a natural pendulum stroke.
In short, even Type One golfers should ask the Madison for a quick dance. They might just find that this ugly duckling turns into a swan on the greens.
For more information, visit www.yesgolf.com, including several other new Yes! models that are more conventional in appearance.
More photos
«
»
November 3, 2009
Kiel Christianson has lived, worked, traveled and golfed extensively on three continents. As senior writer and equipment editor for WorldGolf.com, he has reviewed courses, resorts, and golf academies from California to Ireland, including his home course, Lake of the Woods G.C. in Mahomet, Ill. Read his golf blog here and follow him on Twitter @GolfWriterKiel.