Golf apparel: Technology, style take golfers into the cool season

By
Mike Bailey
,
Senior Staff Writer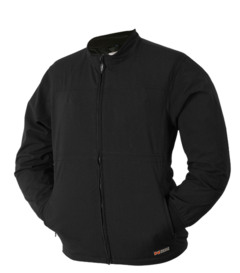 View large image | More photos
Mobile Warming Gear is as technologically advanced as some cell phones. (Courtesy of Mobile Warming Gear)
It's one thing to put a heater in your golf cart for winter golf; it's another to put a heater on your body.
For the latter, you can try Mobile Warming Gear. As the name implies, it's golf outerwear that not only allows you to move, but also to do it without freezing your you-know-what off as the temperatures dip.
And while it's true that many golfers just don't play in cold weather, there are many who like to extend the golf season as long as possible. Even in the South, where golf courses are typically open 12 months, there are lots of cold days where there might be just a few players on the course.
There might be more if they had outerwear from Mobile Warming Gear.
"While some golfers put their clubs away when the weather turns cold, those with a true passion for the game want to get in as many rounds as possible," said Keith Apple, general manager of Mobile Warming Golf, a division of Kadena Sportswear. "We're making that a comfortable reality, rain or shine, with a unique system that ensures a player's core stays warm for up to 10 hours."
Space age technology
Designed by PGA Professionals, the Mobile Warming Gear system is based on concepts pioneered by NASA during the early days of the U.S. space program. Completely unobtrusive and powered by a small, rechargeable lithium ion battery, it provides heat at the push of a button through four adjustable settings.
Each garment is made from ultra-lightweight and breathable, waterproof technical polyester. Featuring four-way stretch, the jackets provide freedom of movement. And here's the cool part (or warm part): There's a system of micro-alloy heating elements built into the back and chest area, which eliminate the need for extra layers while keeping muscles loose in all conditions.
Depending on the warming requirements and outside temperatures, battery life ranges from 2.5 hours to 10 hours.
Offered in men's and women's styles as part of the company's Fall/Winter 2012 collection, the waterproof pieces are also windproof with Velcro cuffs and a hem cinch cord for easy adjustment. They are available now at golf retailers throughout North America, as well as mobilewarminggear.com, with prices ranging from $159 to $209.
Don't slack off in the fall
Another plus about playing in the cooler months is the opportunity to wear slacks, sweaters and pullovers. In the summer, most golfers are trying to go as lightweight and comfortable as possible, including wearing shorts. And while many of them change to slacks in the fall and winter, most golfers also don't put much thought into the performance of their slacks, opting for run of the mill khakis.
Fortunately, several golf apparel companies put some design features into their long pants as well as their shorts and short-sleeve shirts.
One of those companies is Fila Golf, which offers its Oslo pants in several colors. Unlike ordinary pants, these slacks move with you as you make your turn in the golf swing.
These imported cotton Sateen relaxed-fit pants have side seam pockets and two back welt pockets with button and loop closure. Suggested retail is $100.
To complement the slacks you're also going to want a long-sleeved shirt that also gives with the swing. Fila Golf has that answer as well -- the Tahoe Long Sleeve Sport Shirt ($70). It's form fitting, so if you have a little extra weight, not the most flattering, but extremely functional.
Made of 86 percent polyester and 14 percent Spandex, the Tahoe Long Sleeve Sport Shirt is a turtleneck with zipper placket, F-box zipper pull and contrasting color interior collar. It comes in black, blue and silver.
Fila Golf is available at fine golf retailers or its website.
Mobile Warming, Fila: The verdict
Yes, depending on your perspective, winter apparel like Mobile Warming Gear and Fila's Tahoe Long Sleeve Sport shirts are expensive. But if you're playing winter golf, it's worth it to have gear that not only keeps you warm, but also allows freedom of movement.
And if you ever take a trip to Ireland or Scotland, you can fully appreciate the investment because you're more likely to draw cold, windy and wet than you are sunny and pleasant. Being well prepared is worth its weight in golf and beyond.
Mobile Warming Gear is, of course, for serious golfers who will play more than their fair share of not so fair days. But if you ever play golf in slacks, you owe it to yourself to try performance wear like Fila Golf's Oslo Pants. It's not like you need six pair; one or two will do, and you'll be so much more comfortable. Combine it with warm performance shirt like the Tahoe and you're all set.
More photos
«
»
December 7, 2012
Mike Bailey is a senior staff writer based in the Houston area. Focusing primarily on golf in the United States, Canada, the Caribbean and Latin America, he contributes course reviews, travel stories and features as well as the occasional equipment review. An award-winning writer and past president of Texas Golf Writers Association, he has more than 20 years in the golf industry. Before accepting his current position in 2008, he was on staff at PGA Magazine, The Golfweek Group and AvidGolfer Magazine. Follow Mike on Twitter at @Accidentlgolfer.