Wilson Sporting Goods Mourns the Death Of Golf Legend Sam Snead
Staff

Chicago, IL, - Following is a statement from Luke Reese, vice president and general manager, Wilson Golf Worldwide regarding the passing of longtime Wilson Golf staff member Sam Snead: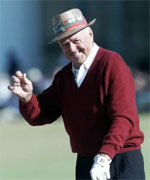 "We are deeply saddened at the loss of Sam Snead. Our Wilson family and the entire game of golf has lost a great ambassador and consummate gentleman.
We have treasured our 65 years with Sam, and he will be sorely missed by everyone here at Wilson Sporting Goods."
Sam Snead signed with Wilson Golf in 1937 at the age of 25, and went on to win a record 81 tournaments on the PGA Tour, including three PGA Championships, three Masters victories, and a British Open Crown. He remained with Wilson as an honorary Staff member with a lifetime contract.

May 24, 2002