Drive long and prosper with Vulcan Golf's Caldera Z440 driver

By
Kiel Christianson
,
Senior Writer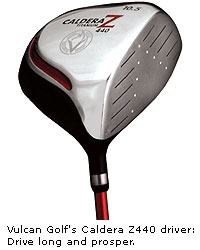 INDIANAPOLIS, Ind. - When I'm here in Indy on Race Day, and I hear "Gentlemen, start your engines," I do not head to the Indianapolis Motor Speedway to watch a bunch of gear heads turn left all day. I head to the nearest golf course, pull out a new, big driver and start my own engine.
Such was the case when I hit River Glen Country Club with the new Vulcan Golf Caldera Z440 titanium driver. Several new big sticks are waiting patiently in line in my basement for on-course testing, but after preliminary range-testing at Lake of the Woods Golf Course, the Caldera Z440 was the one I really wanted to take for a spin around a track far more interesting than the Brickyard.
Vulcan Golf
Vulcan Golf (vulcangolf.com), headquartered in St. Charles, Ill., has been around since 1993, and has survived without Tour presence, player endorsements, or huge advertising budgets. Instead, Gary Hansberger, the president of Vulcan Golf since its inception in 1993, has relied on his vast industry knowledge to provide golfers with affordable, quality, technologically competitive equipment.
Hansberger is part of a family whose lineage has proudly been an integral part of the golf industry in the United States. It was his uncle and father who first made Bristol Golf a top name in the industry. They then became Ram Golf, one of the most prestigious names in the history of the game.
Today Vulcan is taking advantage of the trend toward custom-fitting. The Caldera Z440 (MSRP starting at $300-$375) comes in six different loft options and 40 different shaft options, which means that no matter what your handicap or swing, the club will fit your game.
How it plays
At a recent demo day at Bolingbrook Country Club, Vulcan rep Pete Anderson took one look at my too-fast, too-furious swing and set me up with a 9.5-degree loft Caldera Z440 fitted with a prototype ProJec 7530S shaft. Later, when the Mizuno rep moved me off of the ball a bit so my shoulders could turn, I won't say that I drove the ball quite all the way to the end of the 360-yard range, but I scared the other side once or twice.
But how does the Caldera Z440 perform on the course, where thoughts of trees, water and fogies grilling on their decks all serve to restrict and redirect my swing and sap my power?
Once I got used to my evolving swing for the day, the Caldera Z440 returned me to past days of glory, at least on a few holes. I was able to work it right-to-left on the 10th, keep it straight on the 14th, and fade it OB at one point, too. (OK, that one wasn't intentional.).
One of the best features of the Caldera Z440 is the sound: Rather than the common "TINK" heard from so many titanium drivers, you get more of a "TANK," which, if nothing else, sounds more powerful. Dave Huber, head professional at Lake of the Woods also praised the sound of the Caldera Z when we tested it on the range. And he was able to work the ball in all directions with the thing, on purpose.
The verdict
Maybe you're one of those golfers who wants to have the biggest name-brand in his bag. Maybe you're one of those guys (or gals) who simply must play the same club the pros are playing. You know who you are: You drink only Starbucks, use only Microsoft products, listen to only top-40 music and wear only designer labels.
If this is you, go buy a Ping or a Callaway.
If you'd rather buy local and search out smaller companies, experiencing the joy of novelty and the pleasure of discovery, give the Vulcan Caldera Z440 (or the driver of some other small company) a spin around the track.
My guess is that you will not only enjoy life just a little bit more, you will drive long and prosper.
July 5, 2005
Kiel Christianson has lived, worked, traveled and golfed extensively on three continents. As senior writer and equipment editor for WorldGolf.com, he has reviewed courses, resorts, and golf academies from California to Ireland, including his home course, Lake of the Woods G.C. in Mahomet, Ill. Read his golf blog here and follow him on Twitter @GolfWriterKiel.