Dress to impress: Travis Mathew golf apparel targets a younger demographic

By
Kiel Christianson
,
Senior Writer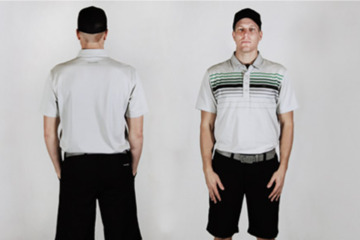 View large image
Travis Mathew's Muni Line is typical of the company's laid-back hipster vibe. (Courtesy of Travis Mathew)
No business will last long if its target demographic is 65-plus. This includes golf.
Some golf courses are figuring this out and have begun opening access to kids, juniors and beginners, in terms of pricing, instruction and tee times.
Some equipment companies have also figured out that Whitney Houston was right about one thing: Children are the future. Cobra comes to mind, with its recent rainbow-hued driver line.
And, finally, some apparel companies are figuring out that younger golfers might want golf wear that fits into their overall style. Travis Mathew is one of these companies, and perhaps the best example of how golf apparel can be extended beyond the links to mesh with a broader fashion collection. With its spring/summer 2013 collection, Travis Mathew captures a certain hipster ethos, blending patterns and colors of yesteryear with the fabrics and athletic fits of today.
The company's catalog features retro props such as boom boxes, Polaroid cameras, leather suitcases and even a station wagon with faux wood side-panels.
The clothes themselves fit comfortably within this milieu. Plaids and stripes in subdued colors are laid against basic black, white and gray backgrounds. Accessories include belts, hats and street shoes that mix and match with all ensembles.
"We find inspiration in the southern California surf culture," explains Leif Sunderland, director of marketing for Travis Mathew, "and the laid-back West Coast lifestyle."
I recently donned the Muni line ($290 for shirt, shorts, shoes, belt and hat) and headed out for a round of golf in Myrtle Beach, S.C. Not only was I comfortable, but I also got several compliments and fit right in later that evening during dinner and drinks among the spring breakers at Broadway at the Beach.
Happily, despite the youthful slant of the collection, I found the sizing to be appropriate for older guys like me (about half-way between the 20-somethings in the catalog and the 60-somethings on the course). The XL shirt is actually an XL, and the sleek, flat-front shorts fit just as they should have.
I mention this because recently I've received some shirts and pants from other companies targeting a younger crowd that did not fit as labeled -- purported extra-larges fit more like larges (or even mediums), and I don't even want to talk about the laughably tight pants.
No such problems with the Travis Mathew line. I might not be the typical Travis Mathew demographic, but both the styles and the sizing were spot on. From California hipster surfers to Midwestern golf writers, that's some broad appeal.
For more information, visit www.travismathew.com.
March 27, 2013
Kiel Christianson has lived, worked, traveled and golfed extensively on three continents. As senior writer and equipment editor for WorldGolf.com, he has reviewed courses, resorts, and golf academies from California to Ireland, including his home course, Lake of the Woods G.C. in Mahomet, Ill. Read his golf blog here and follow him on Twitter @GolfWriterKiel.