Tour Edge Golf Exotics XCG 4 driver is okay if you like long, high, straight drives

By
Kiel Christianson
,
Senior Writer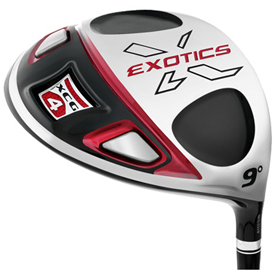 View large image
Tour Edge's new Exotics XCG 4 driver is arguably the best the company has ever produced. (Courtesy of Tour Edge )
Six years ago, we reviewed one of the first offerings in the Tour Edge Exotics line, and we were duly impressed.
Now the mainstay of Tour Edge's designs, Exotics' drivers consistently score as well or better than all but a few of the big-name and big-price companies' drivers. The new Exotics XCG 4 driver is no exception.
The heart of the XCG 4 is an advanced head design that features a titanium face and sole, an amorphous carbon crown, two amorphous carbon sole inserts and two tungsten sole weights.
The ultra light-weight carbon frees up 27 grams of weight that are strategically positioned in the lower rear of the club head to improve MOI by more than 15 percent over previous versions. The result is longer tee shots that hold the target line even on off-center contact.
Also key to the XCG 4's performance is that it's extremely light weight. It comes in two versions, a 310-gram, ultra-light version and a 276-gram, super-light version. The super-light version features a 45-gram, ultra-light, Graphite Design Tour Ad 46-inch shaft and a 26-gram WinnLite grip. The standard, ultra-light version weighs 310 grams and comes with a Fujikura Motore 55-gram, 45.5-inch-long shaft and a Golf Pride New Decade grip.
Both clubs have a suggested retail price of $329.
How the Tour Edge XCG 4 Driver performs
I took the 276-gram, super-light XCG 4 out for my first round of the season to really put it to the test. After not swinging a club for five months, I figured that if I could even find any of my tee shots, it would be a major coup for the XCG 4.
Instead, the XCG 4 delivered one long, high drive down the middle of the fairway after another. In fact, after 14 drives without one slice or one hook, including driving the ball pin-high on the 300-yard seventh hole at my home course, I think I heard my old driver weeping softly in the back seat of my car.
It could sense that its time in my bag might be severely limited if the XCG 4 keeps performing this way. It's the best Tour Edge driver I've ever tested, and I've been reviewing Tour Edge drivers for a decade now.
I must admit that both the super light weight of the XCG 4 and the longer-than-average length worried me before I played with it. Lighter clubs are hard to feel for players like me who swing fast and sometimes become "disconnected" on the backswing. But, as I say, this impressive big stick handled even my rusty, early-season swing, delivering one long, high, straight drive after another.
Which is great, if you like that sort of thing.
For more information, visit exoticsgolf.com.
May 16, 2011
Kiel Christianson has lived, worked, traveled and golfed extensively on three continents. As senior writer and equipment editor for WorldGolf.com, he has reviewed courses, resorts, and golf academies from California to Ireland, including his home course, Lake of the Woods G.C. in Mahomet, Ill. Read his golf blog here and follow him on Twitter @GolfWriterKiel.