Exotics CB Pro U Limited Edition Hybrids from Tour Edge: Power and speed

By
Kiel Christianson
,
Senior Writer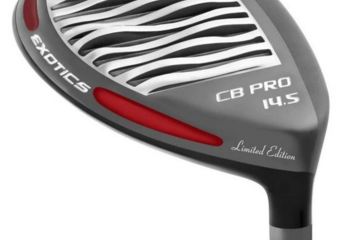 View large image | More photos
The Exotics CB Pro U Limited Edition Hybrids have soles unlike any others on the market. (Courtesy of Tour Edge)
Golf equipment advice is like fingerprints: Everyone's is different.
One rare consensus seems to be that anyone with a handicap over 5 or so should swap out their long irons with easier-to-hit hybrids. Even many PGA Tour pros no longer carry 2- and 3-irons. And most Champions Tour and LPGA Tour pros have availed themselves of hybrid technology for several years now.
Equipment companies have responded to this trend with a multitude of hybrids from which to choose -- and choosing from so many offerings can be overwhelming.
One of the first companies to bring hybrids to market was Tour Edge, whose high-end Exotics line is quietly building a loyal following at all levels of play.
The new Exotics CB Pro U Limited Edition Hybrid line (17-, 19-, and 21-degree, MSRP $250) combines the unique Slip Stream sole with a compact, warclub-like head for remarkable power.
Playing the Exotics CB Pro U Limited Edition Hybrid
I took a 21-degree Exotics CB Pro U Limited Edition Hybrid (~3-iron) out to my local course, eager to pit it against both my usual 24-degree hybrid (~4-iron) and my 18-degree 5-wood.
The first thing you notice about the golf club is the shiny, wavy bands of steel on the sole. This is the aforementioned Slip Stream technology. The idea is that the bands are shaped and positioned in such a way as to reduce drag as the club slides across the turf, no matter what one's angle of attack is.
On the practice range, the CB Pro performed admirably. The compact head instilled confidence and produced one solid strike after another.
The length of the stock Mitsubishi Kuro Kage shaft led to a set-up more like a fairway wood than an iron. With a slight swing change, to produce a sweeping strike that took advantage of the wavy sole, I was able to work the ball in any desired direction, including the ever-difficult (for me) high draw.
With respect to distance, this equivalent to a 3-iron was a lot closer to a 5-wood than my usual 4-iron hybrid. In other words, it is long.
On the golf course, naturally the confident control left me -- but that's me, not the club.
Nevertheless, the CB Pro delivered the ball well out beyond the target yardages of any other hybrids I've tested. That compact head, featuring a Carpenter 475 forged-steel cupped face that is forged to a hyper steel body, felt somewhat heavy, but it also simply smashed the ball.
And those funky, wavy steel strips on the sole? Well, they felt to be sliding through the turf with ease, just as they were designed to do.
Exotics CB Pro U Limited Edition Hybrid: The verdict
Hybrids have become indispensable to average golfers, and even to most low-handicap and pro-level players. Every golf club manufacturer offers hybrid lines, but the Exotics CB Pro U Limited line by Tour Edge is special. The limited series comes in a red velour lined box and with a custom soft leather headcover. More importantly, like all Tour Edge clubs, it comes with a lifetime warranty that is idiot-proof (i.e., you run over it with your car, you get a replacement for free).
Paired with the performance and power of the Exotics CB Pro U, this warranty makes it very possible that one or more of these hybrids will be in your bag for many, many years to come.
For more information, visit wwww.touredge.com.
More photos
«
»
July 17, 2015
Kiel Christianson has lived, worked, traveled and golfed extensively on three continents. As senior writer and equipment editor for WorldGolf.com, he has reviewed courses, resorts, and golf academies from California to Ireland, including his home course, Lake of the Woods G.C. in Mahomet, Ill. Read his golf blog here and follow him on Twitter @GolfWriterKiel.