TaylorMade-adidas Golf's new Targa Tour glove is worth the drive

By
Mike Bailey
,
Senior Staff Writer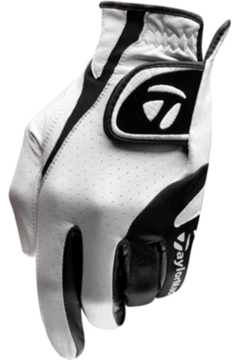 View large image
TaylorMade-adidas Golf's new Targa Tour glove fits great and stays dry. (Courtesy of TaylorMade-adidas Golf)
When you think of golf gloves, FootJoy and Nike Golf are probably the first brands that come to mind. But companies like TaylorMade-adidas Golf have made great strides in recent years and are producing some high-quality golf gloves.
TaylorMade's new Targa Tour golf glove, which many of its tour staffers have put in play, has several features that you look for in a top-quality golf glove. It has a soft cabretta leather feel, moisture wicking ability, durability and a pretty good fit.
I've been playing with one of these gloves for the past six weeks or so.
Targa Tour glove has nice, tight fit
The first thing I always look for in a glove is the fit. After I've determined the size that best fits my hand, I look to see if there is any extra material on the fingertips or the webbing between the fingers. In this case, there was none.
The Targa Glove fit my hand, well, like a glove. No doubt, this is because the material is able to stretch a little, and that might be due in some part to the different materials that are used in this glove's construction.
First, TaylorMade used a AAA cabretta leather that's as soft as any I've felt. Another material, an "antimicrobial performance fabric" is featured in the last two fingers and other areas where the glove is able to stretch to conform to the hand.
The glove is also "micro-perforated for 360-degree ventilation," meaning that your hand stays relatively cool no matter how hot it is because there are tiny holes throughout the glove, which allows it to breathe. This is especially important for people who keep their glove on throughout the round. (I like to take mine off for putting, but that's more superstition than anything.)
The Targa Tour also has a moisture-wicking wristband to keep perspiration from sliding down your arm into the glove.
The verdict on TaylorMade-adidas Golf's Targa Tour glove
Having used one Targa Tour glove for about 15 rounds, the aspect that has impressed me the most was its durability. While it still may not be like new, it isn't far from it, even after that many rounds.
Also, it's starting to get pretty warm and humid here in the South, and I haven't felt the need to start switching this glove out with another one during the round like I often do with other gloves. The moisture-wicking features seem to be working. I even played a round during a constant rain, and the glove remained relatively dry.
The glove gives a real secure grip on the club without having to squeeze very hard. I also haven't seen any significant erosion in the heel pad, and I figure this glove could go at least another 10 rounds before it becomes part of the "practice collection."
At around $15 at major retailers such as Golfsmith, it's priced competitively with other premium gloves. Although there are a couple of decent economical gloves out there, by in large, you get what you pay for, and the Targa Tour glove is a good example. It fits better than cheap gloves and probably lasts twice as long as a glove under $10. In this case, paying a little extra is probably well worth it.
For more information, see www.taylormadegolf.com.
May 12, 2009
Mike Bailey is a senior staff writer based in the Houston area. Focusing primarily on golf in the United States, Canada, the Caribbean and Latin America, he contributes course reviews, travel stories and features as well as the occasional equipment review. An award-winning writer and past president of Texas Golf Writers Association, he has more than 20 years in the golf industry. Before accepting his current position in 2008, he was on staff at PGA Magazine, The Golfweek Group and AvidGolfer Magazine. Follow Mike on Twitter at @Accidentlgolfer.